Dave Manington's Riff Raff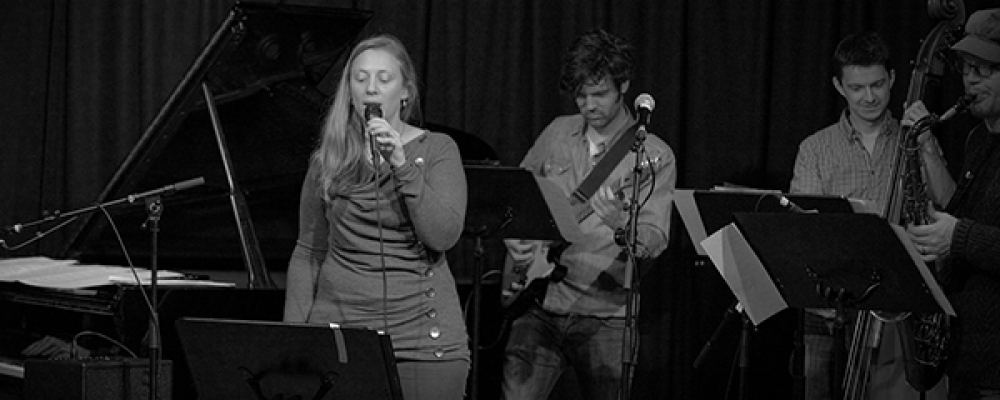 This London based super group released their new album, Hullabaloo, on Loop Records in January this year. Riff Raff mixes the bass playing leader's clever composing with a formidable lineup: Ivo Neame on piano and occasional accordion: the articulate Tomas Challenger on tenor: the excellent Tim Giles on drums; John Scofield-like guitarist Rob Updegraff and softly surefooted vocalist Brigitte Beraha. The soundscape embraces a 21st century sax-led cool school sound, raw guitar-fusion, diffident Wayne Shorteresque lyricism, and vocals that showcase Beraha's eloquent lyrics and her inventiveness as a wordless improviser.
Riff Raff is led by Bass Player Dave Mannington – last seen at Birmingham Jazz back in February with Tori Freestone.  He is a founder member of London's Loop Collective and Walthamstow's E17 collective; out of which comes this band.
Riff Raff features the highly acclaimed musicians Brigitte Beraha (Paul Clarvis, Chris Laurence, Kenny Wheeler, Henry Lowther, L.J.O.), Ivo Neame (Cinematic Orchestra, Fringe Magnetic,Phronesis), Dave Mannington (Gwyneth Herbert, Mark Lockheart, Gwilym Simcock), Tom Challenger (Outhouse, Red Snapper), Rob Updegraff (Ronnie Scotts All Stars, Zigaboo Modeliste) and Tim Giles (Iain Ballamy, Stan Sulzmann, Kenny Wheeler, Art Farmer).
"Inventive, forward looking jazz that subtly pushes the envelope whilst remaining thoroughly accessible to the listener." jazzmann.com
See a recent video here
Supported by Jazz  Services
£14 / £11