Tony Kofi and the Organisation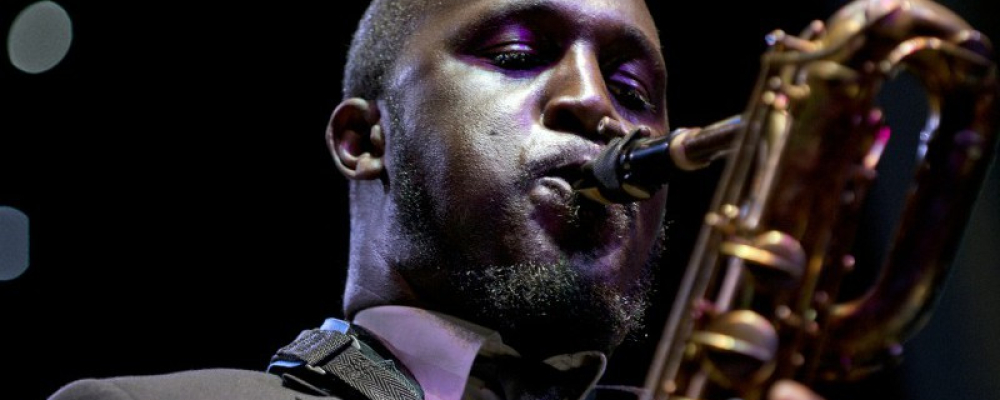 International jazz saxophonist Tony Kofi teams up with The Organisation to produce an outstanding and innovative contemporary jazz performance. Expect re-workings of rarely played classics by Woody Shaw and George Russell and funky organ grooves  with this tight quartet comprised of Pete Whittaker on Hammond Organ, Pete Carter, drums and Simon Fernsby on guitar. Kofi deals not so much with the past as with the eternal truths of jazz music: swing, in-the-moment lyricism and the lust for life and he continues to find compelling ways to express them.
Tony was born in Nottingham to West African parents, His playing career started when he chanced upon a series of jazz workshops, run in Leicester by Nick Hislam. Tony also took lessons from local saxophonist and jazz mentor George Carmichael and was bitten by the jazz bug and made a point of making the journey to go along to each session. This laid the seeds for what was to come, a four-year stint at the legendary Berklee College of Music in Boston Mass. USA, on a full scholarship music diploma.
While in the US, Tony studied with such musical luminaries as Andy Magee and Billy Pearce, gaining invaluable experience that he then put to best use when he returned to the UK. From 1991, Tony was part of the UK's leading jazz group of the time – The Jazz Warriors. This band was (and, indeed, is, in its current form of Tomorrow's Warriors) a hotbed of young talent from the UK jazz scene. Tony was also vital part of Gary Crosby's Nu Troop; this was a big stepping stone for his solo and ensemble work, contributing massively to his own solo projects and educational projects. Tony is still committed to this ethos, regularly running his own workshops and giving individual lessons.
Throughout the nineties Tony was busy, appearing in the front line of innumerable high-profile musicians and groups, including Billy Higgins, Byron Wallen's Indigo, Claude Deppa's A.J.E. & Horns Unlimited, Cheikh Tidiane Fall Quintet, Clifford Jarvis, Courtney Pine, Digable Planets, Donald Byrd, Dr Lonnie Smith, Eddie Henderson, Gary Crosby's Nu-Troop, Julian Joseph Big Band, Jazz Jamaica All Stars, The David Murray Big Band, US-3, Tim Richards' Great Spirit, The Grand Union orchestra, and Lucky Ranku's African jazz all stars, as well as composing original music for his Ten piece group, the Afro Jazz family.
Since 2000, Tony Kofi, Jonathan Gee, Ben Hazleton and Winston Clifford have been building their repertoire of Monk's compositions, all 70 of which were performed in a groundbreaking, marathon six-hour concert at the 2003 and 2007 London Jazz Festival. He also contributed to the Monkathon in 2014's Frontiers Festival in Birmingham. In recent years Tony has been a member of The World Saxophone Quartet and Abdullah Ibrahim's Ekaya.
Line Up: Tony Kofi Baritone Sax; Simon Fernsby Guitar; Pete Whittaker Hammond Organ &
Pete Cater Drums
Pete Whittaker (Hammond Organ)
London-based jazz organist Pete Whittaker became fascinated with the Hammond organ after hearing the classic 1960s jazz recordings by the likes of Jimmy Smith, Richard "Groove" Holmes, and Jack McDuff. After a few years touring the western world with rock bands, Pete has in recent times been involved with several jazz projects including UK saxophonist Theo Travis' "Double Talk" and guitarist John Etheridge's "Blue Spirits". Pete is also regular member of the Nigel Price Organ Trio.
Pete Cater (Drums)
'A gifted and versatile drummer, at home in any context' (Rough Guide to Jazz) Pete Cater is a natural self-taught drummer who has been playing since infancy. Although his 30 plus year professional career has encompassed almost the entire musical spectrum, it is his work as a big band drummer and leader that has secured his worldwide reputation. Pete first formed his own big band when still in his teens and of more recent years the Pete Cater Big Band has released three highly acclaimed CDs, broadcast on Radio 3, appeared at major jazz festivals across the UK, and they are doing an ongoing UK wide series of concerts commemorating the music of the late, great Buddy Rich. Pete's big band expertise sees him in regular demand with a variety of large ensembles including the BBC big Band and the Back to Basie Orchestra. In addition Pete has worked with many international jazz stars in small band settings including Arturo Sandoval, Charlie Byrd, Benny Carter, Buddy De Franco, Terry Gibbs, Al Cohn and currently works regularly with the legendary singer/pianist Buddy Greco. Pete remains in demand as a freelance player and educator with special emphasis on jazz and improvisation.
Simon Fernsby (Guitar)
Simon moved to London in the early 80's. Initially working on the rock and pop scene he has toured extensively in the UK, Europe, Scandinavia the former Yugoslavia, the US Canada and Japan. He has been headlining such prestigious venues as The Royal Albert Hall, the Forum, Paris Olympia, the 'Whiskey A Go Go' and the Universal Amphitheatre Los Angeles. Having also worked for EMI publishing, Phonogram RCA and Rough Trade his TV and Radio credits include The John Peel Show, Top of the Pops BBC 2's Late Show Channel 4's the Word and BBC4's Kalaidascope. After briefly studying with Dave Cliff he has worked with Brighton organist Dave Windross Soul jazz legend Gary Baldwin, Roger Beaujolais, Sam Gambarini and Gareth Lockrane. With the Organisation he has worked with Bob Martin, Steve Fishwick, Jim Hart, Alex Garnett and Dave O'Higgins amongst others. As part of the "7% Solution" Septet they have performed at Ealing Jazz Festival and play regularly at the Crypt of St Martin in the Fields.
 £12 / Members £10 Students £5