Andrea Vicari and Jazz ExTempore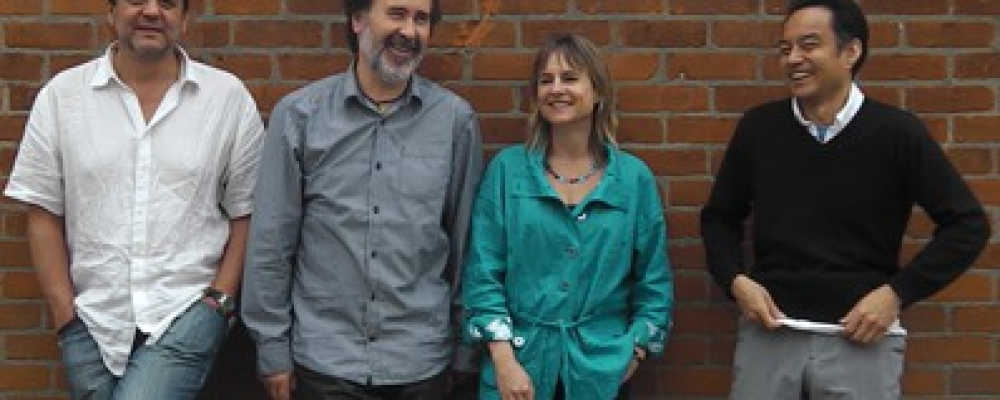 Andrea Vicari and Jazz ExTempore are visiting The Red Lion for the first time, although this will be their fifth UK tour. The group features Andrea Vicari on piano from the UK, Elvis Stanic on guitar and accordion from Croatia, Rico de Jeer on bass from Holland/Indonesia and Hristo Yotsov on drums from Bulgaria, bringing the jazz tradition and Eastern folk together in a contemporary style.  They have recorded a new album: 'East and West' ,released by "33 Records", There are originals compositions from all members of the group as well as two arrangements of traditional folk tunes from Croatia and Azerbaijan.
The CD title 'East meets West' is really the essence of the band with the East represented by Elvis Stanic and Hristo Yotsov and their compositions (Breakout, East meets West, Wandering Shadows) and the West by Andrea Vicari and Rico de Jeer and their tunes (The Occidental Tourist, Elf, Base my Life and Lanziamentos del Verde). 'Harvard street" by Elvis Stanic and 'Sari Gelin' co arranged by Andrea Vicari and Medina Mektiva cross over the boundaries and offer elements of each other's cultures.See The London Jazz News review here http://www.londonjazznews.com/2013/10/cd-review-jazz-extempore-orchestra-east.html
Elvis Stanic is one of Croatia's top jazz guitarists as well as a sought after producer for jazz and pop. His playing on 'East and West' is guitar playing at the highest level- intensely melodic with edge. Andrea Vicari complements the quartet with an equally melodic style entwined with rhythmic and outside lines. The strong writing on this CD and the equally strong playing from all members of the quartet makes this CD a real work of art.
The group was initially formed as a cultural exchange between Croatia and other European countries with gigs in Croatia (Zagreb jazz club, Liburnia jazz festival), Bulgaria (Live Club Sofia, Plovdiv jazz festival) as well as Holland and England (Scarborough Jazz Festival 2010) and more recently the group toured the UK and Eastern Europe including Bosnia, Herzegovina, Croatia and Italy.
" ...the outfit demonstrates their apparently never-ending scope for harmonic creativity and highly-focused improvisation."  MU magazine, Autumn 2013 edition.
 "An important and enjoyable contribution to the new, emergent European jazz - full of confidence and creativity." Dave Gelly, Observer jazz critic
Listen to a clip of Extempore
here:
And see her site www.andreavicari.com
Ticket Price £12 / Members £10 Students £5