Township Comets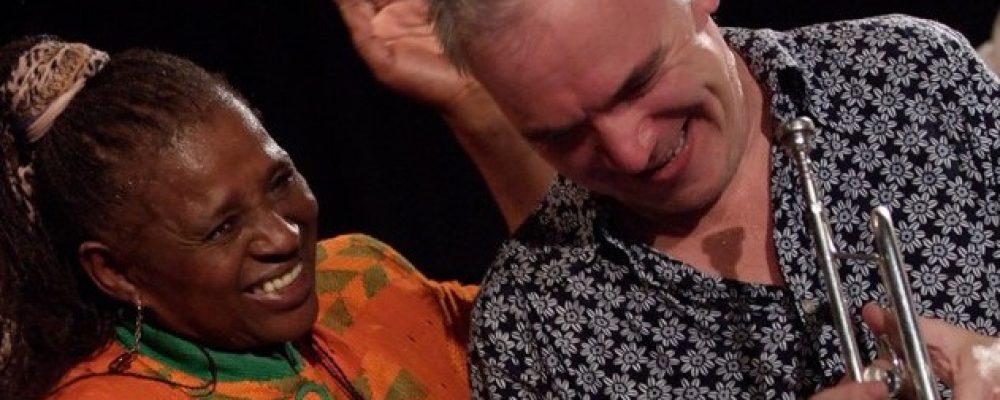 here
The Township Comets play the searing, joyous music of South African saxophonist Dudu Pukwana, a towering figure in township jazz and the European free scene. He came, in exile  from the apartheid regime which forbade mixed race groups, to Europe and eventually London in 1964 with his white colleague Chris McGregor from The Blue Notes . Featured in the band are former members of Dudu Pukwana's group Zila, pianist Adam Glasser and the fantastic vocalist Pinise Saul, who, singing in both Xhosa and English, also unusually vocalises along with the horn front-line.
 
The Township Comets play a joyful mix of South African township jazz and strong improvising; their music is great fun - lively, rhythmic, slightly anarchic. Dance-based jazz, it is hard to sit still. So if you like the music of Dudu Pukwana and Chris McGregor, don't miss this!
 
"I heard the Township Comets playing Dudu Pukwana's music, and Chris McGregor's legacy, and that was fantastic too. It was really like hearing those wonderful bands with Dudu in all over again." John Fordham - Jazz On 3 review of London Jazz Festival

 Line up: Chris Batchelor, trumpet; Pinise Saul, vocals; Jason Yarde alto sax; Harry Brown trombone, Adam Glasser piano, Dudley Phillips bass and Frank Tontoh drums.

You can see Township Comets here - http://www.youtube.com/watch?v=UpIjeEftLfE
 
This gig is a fringe event to the Afrovibes Festival celebrating 20 years since the end of Apartheid.


More information on Afrovibes at The Drum and at the Mac and nationally here

Gig co-promoted with The Drum and sponsored by Homer Creative and OCBC.

Photograph courtesy of Richard Kaby
 
£12 / Members £10
Pictures from the gig by Brian Homer