Sean Gibbs Quintet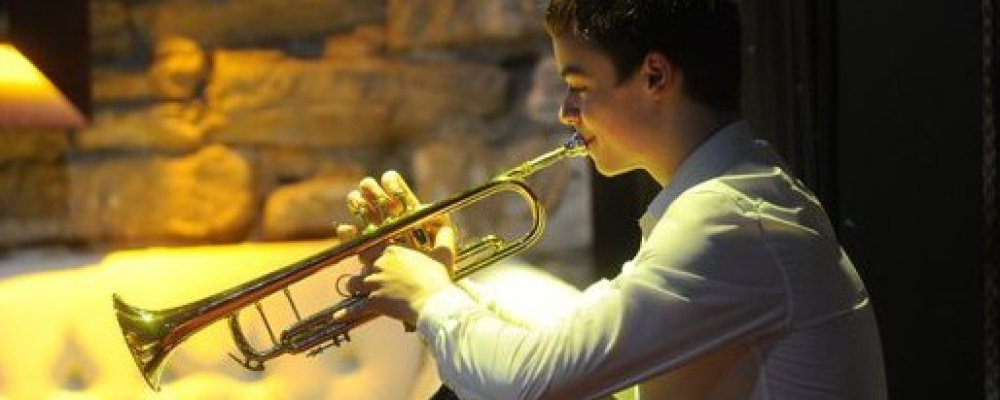 The Sean Gibbs Quintet features Sean Gibbs (trumpet), Dan Bayliss (alto sax), Dave Ferris (piano), James Banner (bass) and Jonathan Silk (drums). The band formed in 2012 and has played numerous high profile gigs, including appearances at the Edinburgh Jazz Festival and Birmingham's Beat City Jazz Festival. The repertoire consists of original compositions of Sean's, which have a contemporary jazz aesthetic but retain a hard swinging groove of yesteryear. This leads to inspired improvisations full of passion, excitement and drive.
"I am a young trumpet player from Edinburgh who strives to make music which appeals to both the head and the heart.
I heard my first jazz record when I was 12. Lee Morgan on "Moanin" changed my life forever. Jazz was to become the most important thing in my life.
Influenced by Clifford Brown and Freddie Hubbard, I joined the Tommy Smith Youth Jazz Orchestra at 15, playing at the Southbank Centre London and the Hub in Edinburgh. I auditioned for the Edinburgh Music School to study music in a more focussed environment. My tutors included Martin Kershaw and pianist David Patrick and I was given classical tuition in both trumpet and piano. I performed Arutunian's Concerto for Trumpet at St Mary's Cathedral as part of the Edinburgh Festival. In my last year at school I performed Kenny Wheeler's "Sweet Time Suite" with NYJOS to audiences across the UK where I received my first review from the Glasgow Herald "Sean Gibbs had a great tone on Flugelhorn". I was then invited to join the NYJOS Collective and enjoyed touring the country playing with guest soloists such as Julian Arguelles and Tim Garland.
 Highlights [of his time at Birmingham Conservatoire]  have been performing Gil Evans' "Sketches of Spain" at Birmingham Town Hall, workshops with Dave Holland, having my compositions played by the Conservatoire Jazz Orchestra and having a one to one lesson with a musical idol of mine, John Taylor." ( from a BBC Radio Scotland interview on The Jazz House)
The repertoire we play is mainly original compositions of mine, a couple of which can be heard on this recording we made in December 2013: http://soundcloud.com/#sean-gibbs/sets/quintet-recordings
Sean has a personal biog at www.seangibbs.com
 £5 / Members Free
Pictures from the gig by Brian Homer here