Ivo Neame Quintet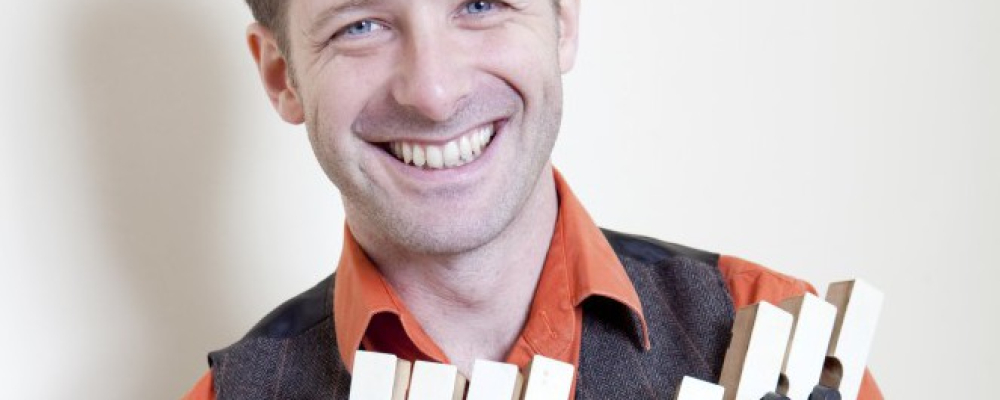 Known widely for his linchpin roles with Phronesis and Marius Neset, effulgent beacon of contemporary jazz piano, Ivo Neame, takes a side step from his octet and other projects to release this exciting new quintet title Strata. Collaborating again with UK luminaries (including three fellow Whirlwind artists) Tori Freestone (saxes/flutes), Jim Hart (vibraphone), Tom Farmer (bass) and Dave Hamblett (drums), this collection of eight Neame originals gyrates energetically with complex written grooves and varying instrumental colors to spark opportunities for venturous, improvised blowing.
Ivo's intention for this latest recording – extensively gigged and carefully honed prior to studio time – was to explore harmonic and textural detail in greater depth in order to forge numbers which each take on their own identity. As such the resulting core quintet landscape, augmented by Neame's sustained synth and accordian layers plus Freestone's dazzling flute extemporizations, does indeed traverse many different levels.
From the rapid vibraphone swing of "Personality Clash" and "Crise de Nerfs", via the crescendoing Weather Reportian synth-and-tenor stature of title track "Strata", to an effusively hypnotic "Folk Song", there's an intensity of sound to savor. Coltrane-imbued "OCD Blues" is both powerful and mercurial, courtesy of Farmer and Hamblett's bass and drum agility; and, pared down to piano trio for "Eastern Chant", the leader is at his searching best. Intriguingly-titled "Miss Piggy" is, in fact, a finely-measured ballad showcasing the unremitting, resonant inventiveness of tenorist Tori Freestone; and the diaphanous atmospheres of "Snowfall", enhanced by Hart's ethereal vibes, are spatially illuminated by exquisitely drifting solos.
At the heart of such vibrancy and diversity is the inquiring, pianistic mastery of Neame, striking richly eclectic seams which, at times, might just as easily suggest Debussy or Stravinsky as the more obvious influences of Keith Jarrett, Chick Corea and John Taylor. A player whose style – whether through programmatic or differing improvisatory
structures – is certainly distinct amongst today's jazz pianists, his particular aspiration for Strata is that it might reveal "memorable themes which make an impact on the listener, both musically and emotionally". Truth is, however many or few layers of creativity you delve into here, this is a significant statement from a premier British quintet... And an enduring listen.
The lineup for this gig will be: Ivo Neame Keyboard; Jim Hart Vibes; Tori Freestone sax/flute; Tom Farmer Bass and Dave Hamblett drums
"One of the finest multi-instrumentalists, composers and arrangers of his generation"

Peter Quinn, The Arts Desk
"Makes Herbie Hancock's "the Prisoner" sound like "the Pensioner"

Iain Ballamy on Yatra
Ivo Neame as a bandleader he has recorded three critically acclaimed albums and has toured in the UK and abroad with the Ivo Neame Quintet. His Edition Records release 'Caught in the Light of Day' was rated the 4th best jazz album of 2010 by MOJO magazine and received 4 star reviews from the Guardian and the Irish Times among others.
Recently he has been lucky enough to receive various awards including a MOBO for best jazz act (Kairos Quartet), Album of the year 2010 in both Jazzwise and MOJO magazines (Phronesis) and winner of the Jazz category for the London Awards for Art and Performance 2012. He was also nominated for UK jazz instrumentalist of the year at the 2012 Jazz FM annual awards and was made an Associate of the Royal Academy of Music in 2013.
Jim Hart - vibes
Originally from Cornwall, Jim Hart began playing drums and piano at age four and soon furthered this to include tuned and orchestral percussion. He appeared for Birmingham Jazz in his own Cloudmakers Trio.
A founder member of London's LOOP collective he is one of the most in demand musicians on the British scene as a soloist and and as a sideman on both drums and vibes. He has toured extensively with many visiting American musicians in the last few years including Ralph Alessi, Joel Frahm, Jaleel Shaw, Terrel Stafford, Logan Richardson and Richie Barshay and he was recently a special guest with Wynton Marsalis.
​Jim has been nominated for Musician of the year in the 2011 Parlimentary jazz awards. A British Jazz award winner in 2006, 2007 and 2008 he also received the Worshipful Company of musicians Bronze medal in 2006. He was also selected to be a participant of the Jerwood/PRS Foundation Take Five Initiative in 2009.
"One of the UK's most creative new jazz artists" - The Guardian
Tom Farmer - bass
London-based bassist Tom Farmer is well-known for his outstanding contributions to the much-vaunted jazz quartet Empirical as a composer and instrumentalist. Empirical have released 4 albums to date, receiving awards in MOJO and JAZZWISE magazines for album of the year and a MOBO award for best jazz act. This critical acclaim has rocketed them to stratospheric success, playing their own brand of uncompromisingly authentic music to enthusiastic jazz lovers the length and breadth of the globe.
In addition to this he performs with the forward-thinking ensemble Dice Factory, and crops up all over the place as a sideman, supporting such luminaries as Jason Rebello and Julian Siegel with his dynamically lithe bass playing.
Tori Freestone - sax/flute
Tori attended the Leeds College Undergraduate and Guildhall Postgraduate jazz courses and was regional finalist of Young Jazz Musician of the Year in '96. She has played with a variety of groups including NYJO, Andy Sheppard,Lee Hazlewood, the Creative Jazz Orchestra, Fringe Magnetic, Orquesta La Timbala, and Neil Yates as well as co-leading the quartet 'Compassionate Dictatorship' and her own trio, with performances including Glastonbury, the Big Chill, the Royal Festival Hall main stage, Ronnie Scotts, the London, Cork, Brecon, Jersey, Manchester, Haskovo (Bulgaria) Elb (Germany), Brecon and Cheltenham Jazz Festivals and performances/recordings for the 'Loop' and FMR labels as well as for Jazz on 3 and BBC Radio 2.
"Freestone makes for a very impressive listen…robust tenor work"Jazzwise
Dave Hamblett - Drums
Since moving to London in 2006 to study at the Royal Academy of Music, Dave Hamblett has been building a reputation as one of the most in demand contemporary jazz drummers in London. On graduating from RAM last year, David was awarded a Yamaha scholarship for outstanding jazz musicians, and was recently nominated as a finalist for the worshipful company of musicians award.
As a sideman David has worked with Ivo Neame, the F-IRE collective large ensemble, Abram Wilson Quartet, Nick Smart's "Jazz Matanzas", Elizabeth Shepherd amongst others and has performed throughout the UK and Europe. As a bandleader and composer Dave has received airplay on Jazz FM and a feature in Jazzwise magazine, and has just recorded his debut album.
£12/ £10 members/ £5 Students