Julian Siegel Quartet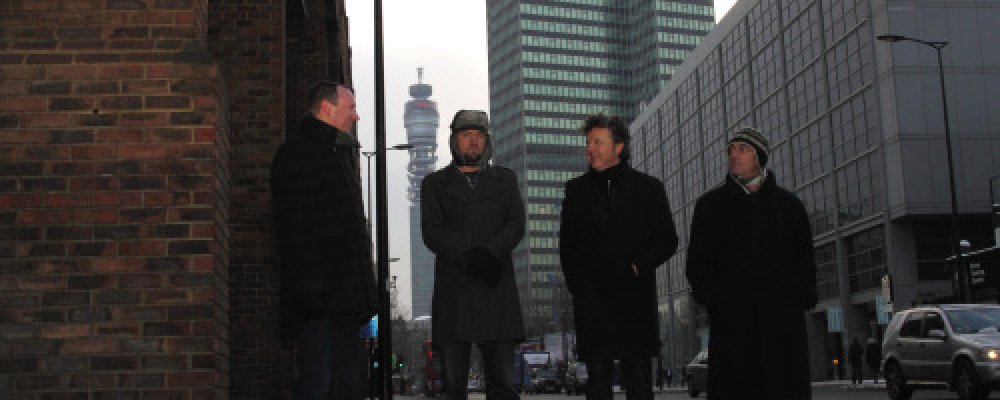 With the Julian Siegel Quartet, Julian has chosen to work with some of this generation's most distinctive voices to create a group that is becoming one of the most in-demand quartets on the UK Jazz scene.  The band features inspirational pianist Liam Noble, his fluid touch and dazzling imagination perfectly complementing Siegel's music and playing, and providing a perfect foil for the many directions the music can turn.  With the creative spark of dynamic drummer Gene Calderazzo and the deep groove of bassist Oli Hayhurst dove-tailing perfectly with Siegel and Noble this is unquestionably one of the UK's most exciting and powerful quartets.  The music the band plays moves freely through varied sound-worlds and colours, from undercurrents of bop into electro-acoustic trance, from an acoustic quartet playing early-electric Miles to dancing West African drum grooves, searching ballads and joyful melodies.  The Julian Siegel Quartet was one of the top UK jazz acts that toured Germany and Austria in March 2011 as part of the Brit Jazz travelling-festival, in which six of Britain ́s most exciting and forward-thinking bands descended on Germany and Austria, performing 76 gigs over the period of two weeks.
'Urban Theme Park' was awarded the London Jazz Award 2011 in the London Festival Fringe Awards for Art and Performance
"When the Julian Siegel Quartet performs live it's a fantastic ride"   Jez Nelson, BBC Radio Jazz on 3, July 2011.
"A dream team of London jazz talent...Urban Theme Park is a thing of charm and poise – in the best sense, a very English record. With such a knack for drawing on jazz traditions while remaining fresh and forward-looking, the Julian Siegel Quartet are the perfect illustration of why British jazz is turning heads the world over. Siegel's tunes fit are a mix of fiendish, time-twisting grooves, building riffs and brightly hummable melodies, never mere blowing exercises, their through-composed nature gives them real drama and momentum."     Edward Randell – MusicOMH
"There's not a moment that doesn't fizz with ingenuity and imagination"   MOJO 23/04/11
"Urban Theme Park' is darn good fun...already a major contender for album of the year and its not even spring yet"  
Andy Robson, Jazzwise Magazine, March 2011
"Oh wow! Even after a few hours' listening to a random selection of the finest CDs of jazz music from the last 50 years or so, this disc still leaps out. It's going to be hard to knock Urban Theme Park off the top of my "best" pile for 2011...it storms and swirls with pleasures from beginning to end" 
Peter Bacon, The Jazz Breakfast, May 2011
"Virtually unstoppable imaginative flow"    Ray Comiskey, The Irish Times, May 2011
"It is a rare and beautiful conflation that gives Urban Theme Park, like all Siegel's recent work, magnetism and depth.. a magisterial studio set."
Chris May, All About Jazz, April 2011
"A UK-jazz supergroup, this band sets the bar pretty high for the art of making idiomatic, eclectic contemporary jazz" John Fordham, The Guardian, April 2011
"Entirely distinctive and very original"   The Observer
Line Up: Julian Siegel – Reeds; Liam Noble – Piano; Gene Calderazzo – Drums and Oli Hayhurst - Bass
£12.50/£10 Members/Students £6