Pavillon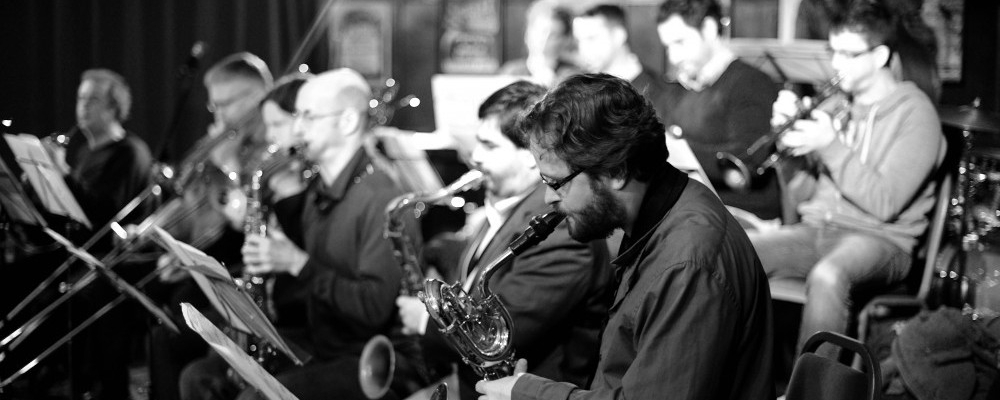 Pavillon is a 12 Piece ensemble led by French Horn Player Jim Rattigan. The group exclusively plays Rattigan's compositions and features some of the most exciting and in- demand instrumentalists in the UK. This is an exceptionally dynamic ensemble, which is the result of a highly creative line-up of Alto, tenor and baritone saxes, three trumpets, french horn, tenor trombone, bass trombone, piano, bass and drums.
https://soundcloud.com/jazzfrenchhorn/strong_tea
"...Rattigan is a force throughout, his controlled sound warm and nimble and there is generous space for the roster of quality soloists" Mike Hobart F.T.
Jim has performed all over the world both as a jazz soloist and as a band member of various groups. These include the Michael Brecker Quindectet, the Charlie Haden / Carla Bley Liberation Music Orchestra, the McCoy Tyner Big Band, Django Bates' Delightful Precipice, the Creative Jazz Orchestra with Kenny Wheeler, Brad Mehldau with the Britten Sinfonia. Jim has toured and recorded with Mike Gibbs and the Hans Koller band with Steve Swallow and Bill Frisell.
"... a brilliant and versatile jazz soloist on French Horn and an interesting and questing composer / arranger. Ian Carr Rough Guide To Jazz
Line Up: Jim Rattigan - French Horn, Composer/arranger; Martin Speake - Alto Saxophone; Andy Panayi - Tenor Saxophone; Mick Foster - Baritone Saxophone; Percy Purseglove - Trumpet/Flugal Horn; "Steve Fishwick - Trumpet; Robbie Robson - Trumpet; Jeremy Price - Trombone; Sarah Williams - Bass Trombone; Hans Koller - Piano; Dave Whitford - Bass; and Gene Calderazzo - Drums
£12.50/£10 Members/Students £5