Blue Notes
This feature is a revisiting of the great Blue Notes led by the late Andy Hamilton.  This group consists of Vic Evans vocals, Paul Foad guitar, Timm Amman piano, Ray Brown bass, Louis Hamilton-Foad drums with Gabriel Amman and Alex Polack trumpets, Archie Tulk sax and guest appearance from Sandra Daniels vocals.
A gallery of the feature artists:
Profiles
Paul Foad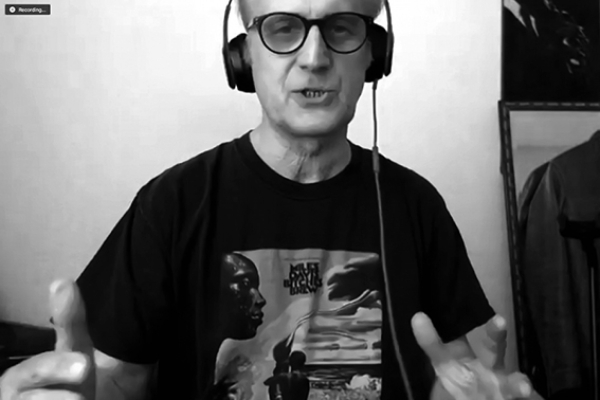 Bio
Paul Foad, a guitar player, was born in Liverpool but his family came to Birmingham shortly afterwards. He first started playing for a school drama concert and then met Alan Edwards a guitar teacher in Birmingham and at 16 started teaching others to play. He was in a punk band called the Au Pairs consisting of two women and two men which had considerable success in the early 80s. Towards the end of that band Graeme Hamilton the trumpet player joined and through him he met Andy Hamilton and joined the Blue Notes in the 90s where his grounding in jazz really started. He played with the band until Andy's death and has kept the club Andy started, now called Silvershine, going with his wife Kim one of Andy's daughters. He continues to teach at BIM in Birmingham and with individual students as well as keeping the legacy of Andy Hamilton alive with the Blue Notes.
Musical Life and Work
 "At the age of 16, I saw George Benson, and my jaw just dropped on the floor. And that was it. I just thought my God, this guy really is an incredible musician. And then the Au Pairs towards the second album.. a band called Pig Bag, came and played on our second album. And we had the kind of crazy free jazz extemporize improvisation on the end of one of our songs. And at the same time, I just met Graeme Hamilton, great trumpet player. And Graeme came in to join right at the end of the Au Pairs, he came in on trumpet to kind of augment this the sound of the band because we wanted to kind of take it a little bit more in that kind of jazzy place."
"I've been blessed beyond belief. Because every day since I've picked up the guitar at 15 every day, I've been able to play the guitar and that makes me happy. And teaching… I love it, man. Because I'm playing guitar. I've played in front of 70,000 people – that was the biggest crowd I've ever played in front of - and I've stood busking on New Street. There's no difference. Playing is playing… It's whether you get paid for it or not. It's what I love doing. It's what I'll always do till the day I drop."
Covid
While the pandemic stopped jazz clubs like Silvershine from promoting gigs and dramatically curtailed gigging by musicians Paul's teaching work has been continuing but now online. Currently with restrictions lifting in the Spring of 2021 the club has restarted.
Sandra Daniels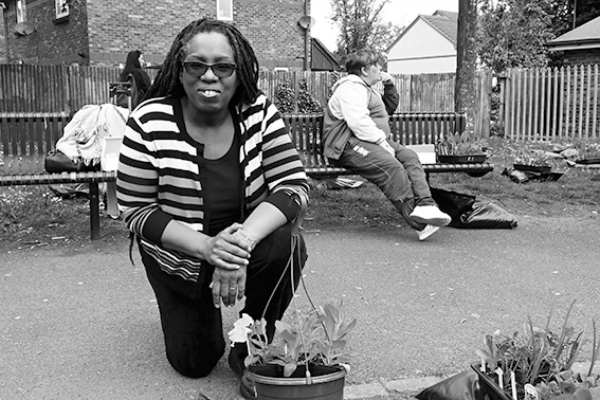 Bio
Sandra Daniels, a singer, was born in Moseley, Birmingham. She started singing very young but it was going to Church from the age of 16 and getting involved in Gospel where it got developed. For many years she was a social worker supporting families that had children with disabilities. More recently she reduced her hours due to the pressures, then became a carer for her mother and eventually in 2018 became a full time singer with her own band and in care homes. She does vocal coaching, runs a singing group for people who are depressed, isolated or lonely and volunteers for a community arts project.
Musical Life and Work
"I guess I've always [been] singing, singing at home all the time. But in terms of going out and singing in front of other people, I think probably, I would have to thank the church for that. As most singers tend to start in the Gospel circles, and that's more or less where I started as well. I started going back to church when I was about 16. Singing those gospel songs gave me a nice foundation, to sing for the love of it, for the joy of it, not for entertaining. …it doesn't really matter whether people like you or not, it's about being true to what you're singing for."
"I was asked to run a group, which was for social prescribing, if you are depressed, or isolated, lonely, either your doctor or your social worker could refer them to myself, to the singing group, and it would give social opportunities, would help to develop people's confidence and, you know, reduce isolation. So, I've been doing that for the last nearly three years. And in March, we started to do online. So that's still happening on a Monday. So that's, that's where I am."
Covid
"…it was building up very nicely so that regularly I had various care homes in Birmingham in Wolverhampton that I would go and sing at in the week … And obviously, it's kind of all stopped, because I can't sing in care homes. It's just too dangerous for them. And although I know that some people are doing things online, in their house, but I haven't had that opportunity."