Meier/Oxley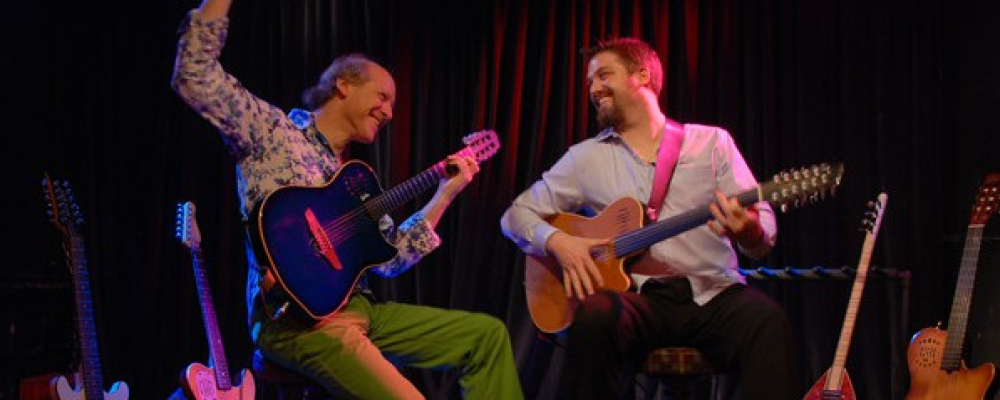 Nicolas has in just a few short years has carved a reputation out as one of the UK's most original and uniquely talented guitarists. This performance is part of their "The Colours of Time", Pete Oxley and Nic Meier bring their original two guitar set to the Red Lion, as part of an extended national tour.   Meier draws his inspiration from a love of Turkish, Eastern & Middle Eastern music, Flamenco, Tango and more, all mixed with jazz.
Meier is one of the rising stars in a vibrant British jazz scene, but his versatility and musical fluency extends well beyond that, so much so, that his considerable talents drew the attention of rock guitar legend, Jeff Beck, who has since made Nicolas a mainstay in 'The Jeff Beck Group', carrying him on two world tours during the course of the last few years.
Meier originally hails from Switzerland; born in 1973 to parents who are great lovers of the arts, with wide-ranging musical tastes extending to the Classical, Jazz, Latin, Flamenco, Rock and (even) Pop genres.  A true gypsy spirit with a disciplined maestro's touch, Nicolas has embraced a number of different cultures and studied their music forms, nuances and idiosyncrasies.
Pete was born at a very early age.  This, he feels, had no effect on his reluctance to play jazz whilst doing the kind of things one does at an early age. In fact, he readily admits himself that his ten-and-a-half shoe-size had long been established before such words as 'augmented' and 'altered' had encroached upon his adolescent vocabulary.  Pete also rather shamelessly admits to not only having owned a ukulele-banjo as a young teenager, but also to having learned every George Formby song which contained the slightest hint of a thinly veiled double entendre.  Apparently though, it was the allure of the 7th chord which got the lad and it was an obvious transition therefore to move directly from G. Formby to the works of Egberto Gismonti, Pat Metheny, Herbie Hancock and John Scofield, influences which he would still cite today.
But to go back a little: in the seventies and early eighties, Pete had a lot of hair and so felt duty bound to play in guitar-wielding rock bands. Being a bit of a smart-arse, he joined a band which eschewed the 3-chord trick, favouring the unnecessary musical complications flaunted most obscenely by Yes and Genesis.  With the suffolk-based band Kashmir, Pete wrote many a lengthy opus, recorded and undertook several world-domination tours of East Anglia.  He owns up to having owned a double-necked guitar during this dubious period of his career.
Then, something happened.  Pete was offered a place at the Leeds Jazz College in 1981.  He accepted the place on the understanding that jazz meant playing good-time stomping stuff in pubs, getting paid a fiver and drinking as much beer as could be consumed during a gig (following the demise of Kashmir, he had joined a stompers band in his native Bury St Edmunds).  On his arrival at the college, he realised he had been duped; the hipsters were listening to The Brecker Brothers.  Pete rebelled by assuming the persona of George Orwell, wearing a habitual dark brown coat and writing poetry rather than attending music classes.
£12.50/£10 Members/Students £5​