Romarna Campbell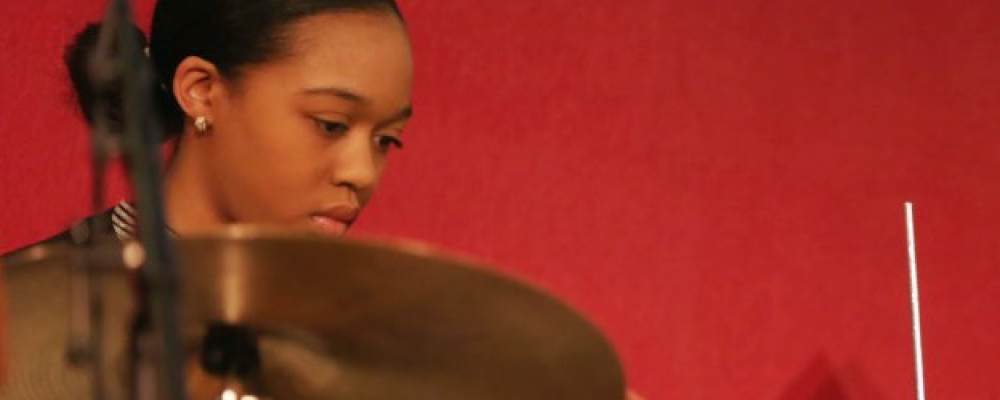 Birmingham Jazz is excited to welcome for the first time, Romarna Campbell, with her latest project 'Limitations of Our Imaginations'.  Romarna has been ever present on the jazz scene in Birmingham from a very young age.  She has now completed two years at Birmingham Conservatoire under the direction and tutelage of Mike Williams, Percy Pursglove, Clark Tracey, Andrew Bain, Jeff Williams, Jeremy Price and Hans Koller.
Romarna got into jazz through a chance meeting with Andy Hamilton MBE, a veteran saxophonist based in Birmingham, who introduced her to a local community Big Band called the Notebenders. Andy Hamilton was a massive influence on her music and as a mentor. In later years, through her affiliation with Tomorrow's Warriors and Jazzlines, Gary Crosby OBE and Mary Wakelam-Sloan have helped in guiding her musical journey to date.
We are looking forward to Romarna debuting her new septet, B L A N (C) A N V A S, featuring original compositions and arrangements by Romarna. Limitations of Our Imaginations, is an exploration of how music can push and break down barriers, what it's like to navigate modern life as a young musician and an insight into Romarna as a bandleader, composer and arranger. Expect explosive moments, mixed with quiet thoughtfulness inspired by a deep-rooted influence of bebop, hip-hop and neo-soul.
Tenor Sax: Xhosa Cole
Tenor/Baritone Sax: Harry Weir
Trombone: Richie Seivwright
Piano: David Austin Grey
Bass: Mutale Chashi
Vocals: Georgie Wells
Drums: Romarna Campbell
£6/Members free/Students £3