Great Wee Band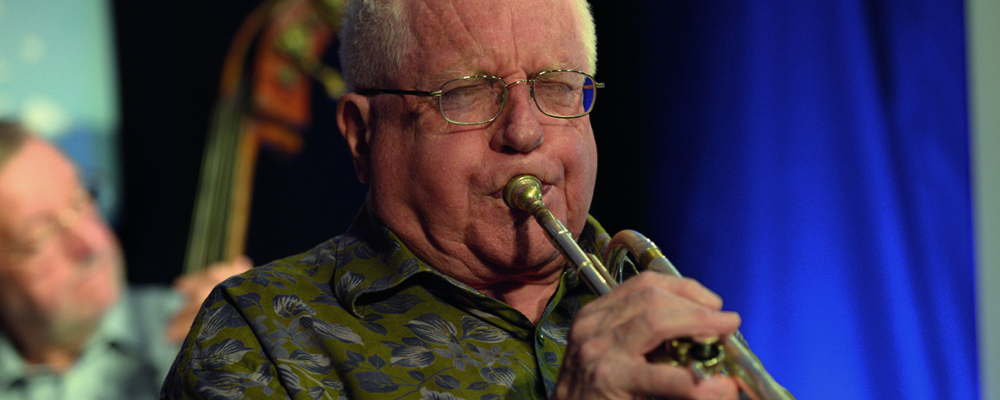 With a fantastic line up of British jazz stars this band will bring their lyrical and rhythmic brand of jazz for what is sure to be an enjoyable night – especially as Henry, as well as having a beautiful trumpet and flugel tone, also has a stock of great jazz stories and is ably supported by top rhythm section of Dave Green and Stu Butterfield.
Sadly Jim Mullen has been seriously ill and won't be able to play so Colin Oxley will be his replacement.
A night with… 'The Great Wee Band'.  In keeping with Birmingham Jazz's long standing tradition of bringing top quality entertainment to the City, we continue this season's series at the Red Lion, with this all-star quartet.  The group's name The Great Wee Band was coined by Jim to Henry after the first set of a gig, then stuck as a name the band referred to.
Henry Lowther's beautiful trumpet and flugelhorn sound has graced jazz in the UK for several decades.  He has performed at the Woodstock festival (with Keef Hartley Band), toured with Gil Evans, George Russell, and the London Brass Virtuosi as well as Kenny Wheeler's Big Band.
Jim Mullen is one of the most instantly recognisable jazz musicians on the scene today with a vast array of experience behind him including co-leading the famous Morrissey Mullen Band and appearing as a featured soloist with visiting Americans such as Gene Harris, Mose Allison, and Jimmy Smith.  He leads his own Organ Trio, frequently becoming a Quartet with saxophonist Stan Sulzmann.
Dave Green has to be the UK's favourite jazz musician amongst his peers.  His career stretches back to accompanying Americans at Ronnie's Scotts in the early days, including legends such as Hawk and Ben Webster, Sonny Rollins etc.  Today he appears in many contexts including a contemporary trio of his own featuring Iain Dixon and Gene Calderazzo, the Scott Hamilton Quartet.
Stu Butterfield has established himself on the London jazz scene as a highly inventive and sympathetic drummer.  He has hosted gigs across London for the last 16 years, is a founder member of Mingus Moves, co-leader of The Srayhorn Project with Phil Lee, and a member of the Chris Biscoe Quartet which has also released a critically acclaimed CD on Trio Records Gone in the Air.
£12.50/£10 Members/Students £5
Line Up: Henry Lowther – Trumpet; Colin Oxley – Guitar; Dave Green – Bassist and drummer Stu Butterfield