Mark Pringle International Quartet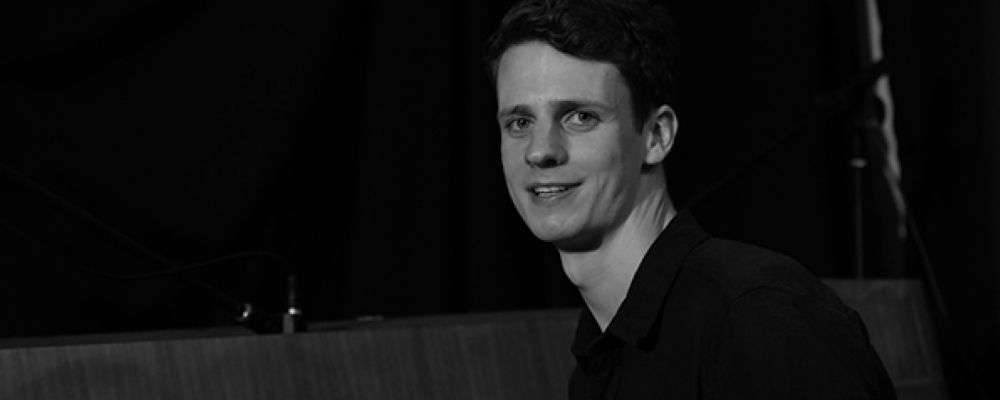 Mark Pringle brings this band of some his favourite musicians from across Europe for a UK tour. He has collected together a diverse and fascinating group of like-minded musicians from Portugal, Sweden and the UK. It will be fascinating to see the musical results of this intercultural meeting. Expect some exploration of our different folk musics and plenty of original music.
João Lopes Pereira from Portugal is on drums, Tobias Anderson from Sweden is on guitar, James Banner from the UK but living in Berlin is on the double bass, and Mark is on the piano.
Mark Pringle is a pianist and composer from the UK working in the fields of jazz and improvised music. He is a Yamaha Jazz Scholar, a Peter Whittingham Award winner and grateful recipient of a postgraduate study award from the Countess of Munster Musical Trust. In the UK he has performed at the Proms Late Series, Manchester Jazz Festival, The Vortex, Southbank Centre and for BBC Radio 3, as well as abroad at Dokkhuset, Trondheim; Salle Maurice Fleuret, Paris; Koncertkirken, Copenhagen; and A-Trane, Berlin. He was named in a list of musicians who made a big impression in 2015 by London Jazz News, and included in Jazzwise Magazine's list of musicians to look out for in 2016.
Mark has undertaken studies at conservatoires in Berlin, Copenhagen, Paris, Amsterdam and Birmingham with some world-class musicians and creative thinkers - John Taylor, Greg Cohen, Søren Kjærgaard, Liam Noble and Harmen Fraanje to name just a few. He graduated with First Class Honours from the undergraduate jazz course at Birmingham Conservatoire in 2015, receiving the Jazz Department Performance Prize, the Dean's Award for Exceptional Achievement, and the Principal's Prize for outstanding musicianship.
£12.50/£10 Members/Students £5
Mark Pringle piano, Tobias Anderson guitar, James Banner bass, João Lopes Pereira drums