Theo Travis Double Talk - A Big Gig Event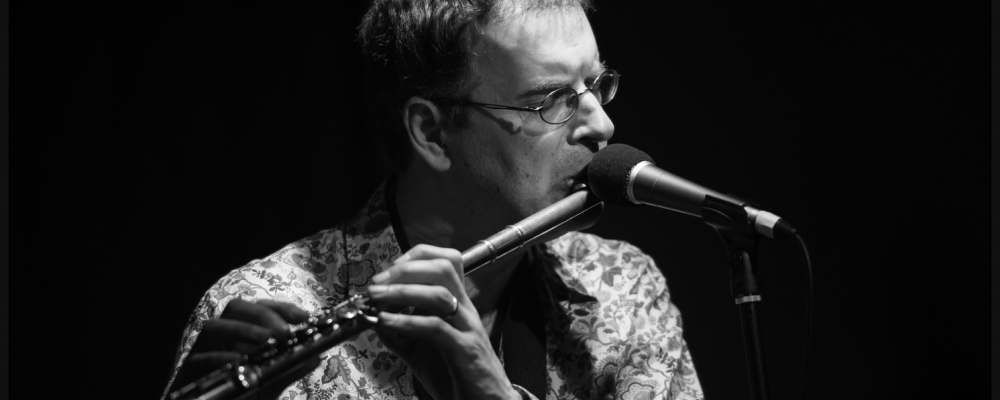 Theo Travis is one of the leading tenor players on the British and international scene. His music ranges through jazz and progressive styles while being accessible and tuneful. The list of top names he has played and collaborated with is impressively extensive from Robert Fripp, Soft Machine Legacy and Gong to David Gilmour, Keith Tippett, Harold Budd, Steve Hillage and John Etheridge and his own band is outstanding.
Theo Travis was born in Birmingham and moved to London in 1992 where he soon established himself as one of the finest tenor sax players on the British jazz scene. He has led his own jazz quartet for over 20 years, recorded ten albums as leader having composed, arranged and produced the material and performed all over the UK as well as at Ronnie Scott's Club in London over 75 times. He is increasingly known as one of the top saxophone and flute players in the world of Progressive music and has appeared as featured soloist on over 120 albums. With guitarist Robert Fripp he formed Travis & Fripp in 2007 and the duo have toured internationally and recorded 4 albums which Travis co-wrote and produced.
In 2006 he became a member of Soft Machine Legacy, taking over from the late Elton Dean, and since then he has co-written and co-produced their 3 albums as well as toured Europe, Japan and Brazil. Travis has performed and recorded extensively with Steven Wilson as featured soloist, and they have worked on 23 albums together. Travis also was a member of Gong from 1999 to 2009 and in 2015 he joined David Gilmour's band for the 'Rattle that Lock' tour.
Travis has also performed and recorded with David Sylvian, Bill Nelson, The Tangent, Roger Eno, Keith Tippett, Harold Budd, John Foxx, Steve Hillage, John Etheridge, Cipher and Mick Karn. In 2014 he wrote his first book 'Twice around the world', a diary of blogs from the Steven Wilson world tours of 2012/13 and he has appeared as a walk on artist in film and TV such as 'Notting Hill', the Bond movie 'Die Another Day' and 'Foyle's War'. In 2015 he released his latest solo album 'Transgression' (Esoteric). He lives in London with his wife, son and 16 saxes and flutes.
£12.50/£10 Members/Students £5
Theo Travis sax & flute, Mike Outram guitar, Pete Whittaker organ, Nic France drums
THIS IS OUR CONTRIBUTION TO THE BIG GIG - Details on http://biggig.org.uk