Mike Westbrook The Uncommon Orchestra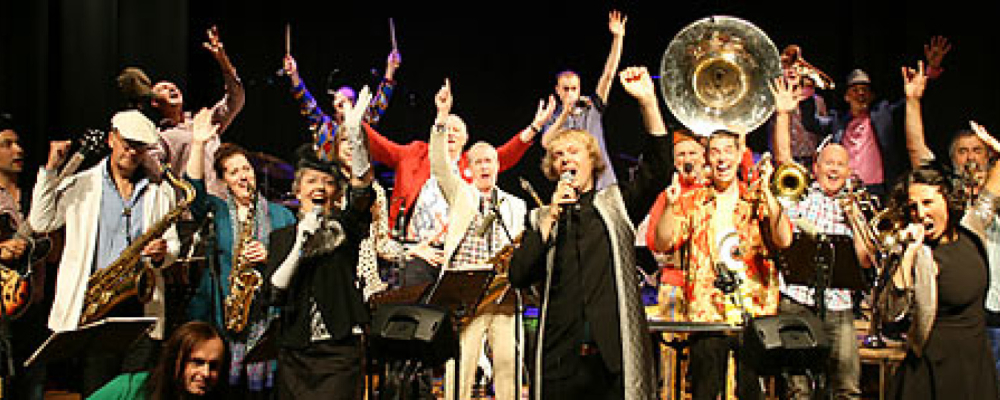 A Bigger Show is an exciting jazz/rock music and drama piece that uses a fairground setting to look at the way of the world in the age of the internet. Full of irony, humour, high drama and brilliant music it's a show not to miss.
We are so pleased to welcome back to Birmingham, after what seems a very a long absence, Mike Westbrook in Orchestra mode – The Uncommon Orchestra.   A 20-strong ensemble a very big sound for this Winter, in the main theatre space of the Blue Orange. Mike Westbrook was in his early 20's when he first led a band and he has been doing it for the last 55 years. Like the great US bandleaders, he has continually gathered together powerful combinations of playing talent that have brought his often-ambitious compositions to vigorous life. His biggest and most impressive achievements have been collaborations with lyricist and vocalist Kate Westbrook, usually highly stylised jazz oratorios, often with a political edge and always staged on a grand scale that defies the economic logic of jazz
Mike has a long history of innovative visceral music.  Straight Jazz bands, theatre, marching bands and the best Beatles cover ever "Off Abbey Road". Now he has created 'A Bigger Show mixing long time collaborators such as Alan Wakeman and Pete Wyman with younger (one is a Conservatoire student) players with Classical and rock musicians.  A Bigger Show has been described as a Jazz/Rock Oratorio. Kate Westbrook's scenario uses the image of the fairground to examine, with irony, humour and high drama, the lot of Humankind in the age of the World-Wide-Web. Mike Westbrook's score for 20-piece ensemble involves 3 vocalists/actors, acoustic brass and saxophones, electronics and a rhythm section.
Uncommon Orchestra Line-Up:
Kate Westbrook & Martine Waltier voice
Billy Bottle voice & bass guitar 
Roz Harding, Sarah Dean, Alan Wakeman, Pete Whyman & Ian Wellens saxophones 
Jon Scott & Sam Massey trumpets 
Dave Holdsworth Sousaphone & trumpet
Stewart Stunnell, Joe Carnell & Sam Chamberlain-Keen trombones 
Marcus Vergette bass
Jesse Molins & Matthew North guitars 
Coach York drums
Mike Westbrook piano 
Tim Goodwin dramaturge
Tickets: 
None Member £15, Member £10, Student £8