Alina Bzhezhinska Quartet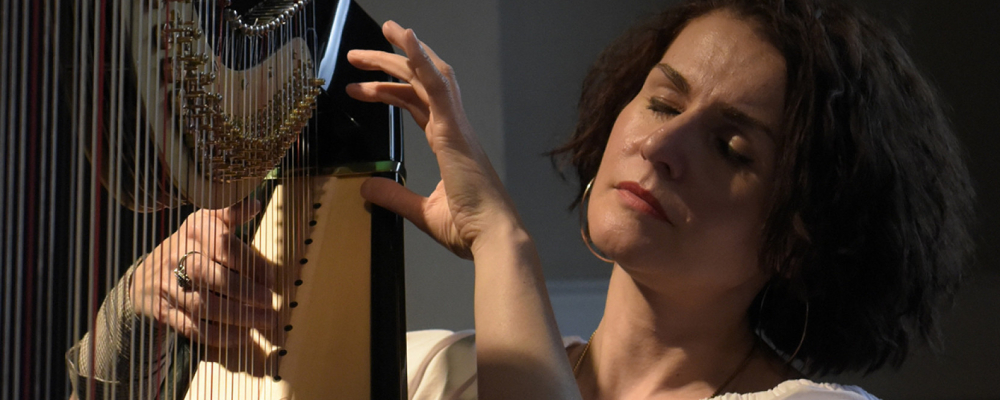 This unusual harp-led quartet appeared for Birmingham Jazz last year and from the first notes it was spectacular and spell binding, everyone plays with total commitment and the result is fresh sounding, intense and utterly compelling; a welcome addition to the scene and a great tribute to Alice Coltrane - long overlooked but increasingly revered.
Internationally renowned harpist Alina Bzhezhinska, brings this highly anticipated reworking of the project dedicated to Alice Coltrane - one of the most innovative female jazz musicians. The Quartet celebrate the double anniversary of Alice Coltrane's birth and death (1937-2007) by performing their arrangements of her compositions from the albums such as "Journey in Satchidananda', 'Ptah The El Daoud' and Eternity as well as Bzhezhinska's own material that was influenced by Coltrane's art.
The harp has a very marginal history as a jazz instrument, barely even appearing in the 'miscellaneous instruments' category. However, it does possess at least one major voice, and one that's closely linked into the very heart of the tradition - Alice McCleod, otherwise known as Alice Coltrane, released a handful of albums after her husband's death that placed her unique harp playing at the centre of an idiosyncratic, spiritually charged and highly accessible take on modal jazz. While the cosmic trappings of the presentation of such albums as 'World Galaxy' and 'Universal Consciousness' may place them very firmly in the context of 1970s Californian counterculture, the music within has an unflinching directness and powerful emotional intensity that transcends genre. and there's been a recent revival of interest in this music.
The other members of the band are equally notable and this is going to be an unusual and special night.
Line Up: Alina Bzhezhinska - Harp, Tony Kofi - Sax, Larry Bartley - Bass and Joel Prime - Drums
Tickets: £12.50/£10 Members/Students £5
Listen here: