Two of a Mind Allison Neale & Chris Biscoe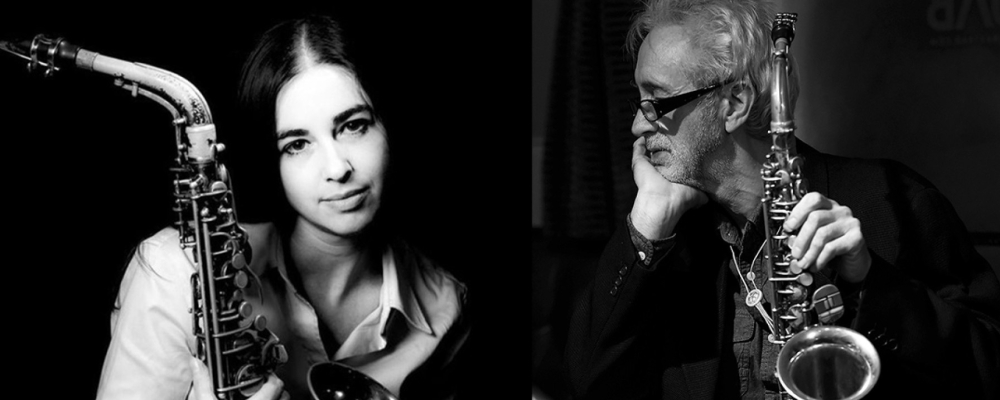 Exploring afresh the freewheeling, wonderfully melodic interpretations of standard material recorded 50 years ago by Gerry Mulligan and Paul Desmond on "Blues in Time" and "Two of a Mind". Co-led by Alison Neale and Chris Biscoe 'Two of a Mind' takes its inspiration from the very melodic recordings of Paul Desmond and Gerry Mulligan; created around 1960. It's Allison Neale on alto sax and Chris Biscoe on baritone sax taking the respective roles.
The Mulligan and Desmond recordings were by a quartet of baritone and alto sax, bass and drums. CD re-releases included some tracks with guitar added. This new UK band promises to evoke the spirit of these classic recordings while giving free reign to the personalities of the musicians.
The first CD by the band, 'Then and Now' (Trio tr597), was been released in March 2017, and distributed by Proper Music and includes three performances by the quartet (two saxes, bass and drums) and four on which guitarist Colin Oxley joins us. Colin's playing is an object lesson in how to enrich the harmonies and add to the rhythmic drive without detracting from the interplay between the saxes which is the hallmark of this band.
Chris Biscoe baritone sax and alto clarinet Allison Neale alto sax, Colin Oxley guitar, Dave Whitford bass and Matt Fishwick drums
Tickets: £12.50/£10 Members/Students £5
Weekend and Festival Tickets also available
Dave Gelly, The Observer,Sunday 19 March 2017/The Guardian ****

Two saxophonists, Chris Biscoe and Allison Neale, revisit the music of Gerry Mulligan and Paul Desmond. The baritone-and-alto interplay of this classic late 50s-early 60s partnership had the rare distinction of being both clever and tuneful, with touches of wit. The trouble was, they only made two albums together. Now, with perfect rapport, and a positively uncanny grasp of this elusive idiom, Biscoe and Neale have come up with more, including two Biscoe originals. The playing is immaculate, with the beautifully light but firm support by bassist Jeremy Brown and drummer Stu Butterfield. Colin Oxley adds subtle guitar on four tracks. It all sounds bright, sharp and, well, modern.