Chris Laurence Quartet plus Henry Lowther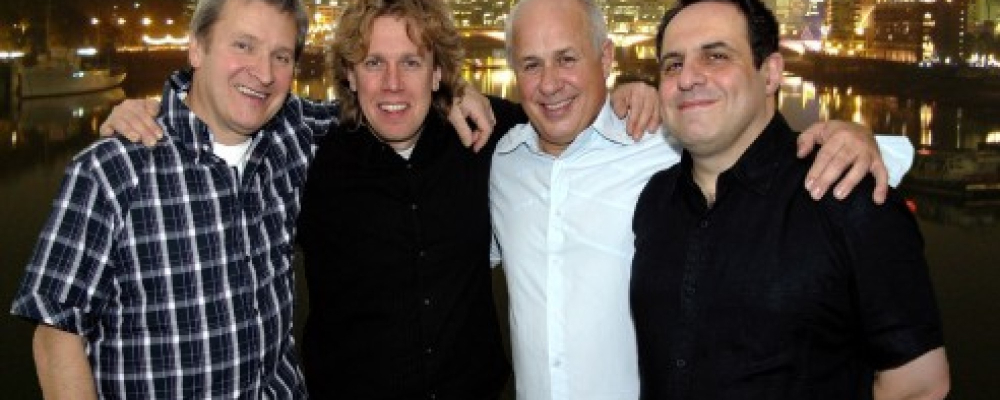 Another chance to hear one of the most accomplished British bands with special guest Henry Lowther. This quartet spans two generations - the 1960's new music era represented by Henry Lowther, Chris Laurence and Frank Ricotti and the Loose Tubes era of the 1980's represented by Martin France and John Paricelli. They play their own tunes that have been honed over the decades and are full of all the good things of life: warmth, humour, melancholy, and memories.
 Laurence's group is notable for the acclaim each member has in Britain, while not yet achieving deserved acclaim in North America. In their debut CD 'New View' whether it's the clean electric tone of his work on "Falling Grace," the distorted edge of his own buoyant 5/4 "Scrim" or his classical guitar work on Wheeler's melancholy ballad "Where Do We Go From Here?" (also featuring a beautiful arco intro by Laurence), John Parricelli is a musical chameleon who paradoxically retains his personality. Like John Parricelli, Frank Ricotti is a player who leans towards spare interpretation, abstract colouration and a lyrical approach to soloing. This gig has a guest appearance by Henry Lowther, a longtime associate of Laurence and Ricotti going back to the '60's era, with his warm tone and pure harmonies.
Frank is another shape-shifter who can transform a delicate piece like Stan Sulzmann's "Jack Stix," giving it just the right hint of force and purposeful tension and release. His lone solo on "Going for a Burton" is a combination of potent force and strong construction, while he's in perfect synch on Wheeler's tango-esque "Sly Eyes. The bass pattern-driven "Canter" is another Wheeler tune that features a less idiosyncratic but nevertheless Frisell-like solo from Parricelli. 
Laurence is clearly a democratic leader, but what he brings to this band, in addition to an astute choice of band mates and material, is a homage to the great British jazz standards.
Chris Laurence bass, Frank Ricotti vibes, John Parricelli guitar, Martin France drums, Henry Lowther trumpet.
Tickets: £12.50/£10 Members/Students £5