Paul McCandless & Charged Particles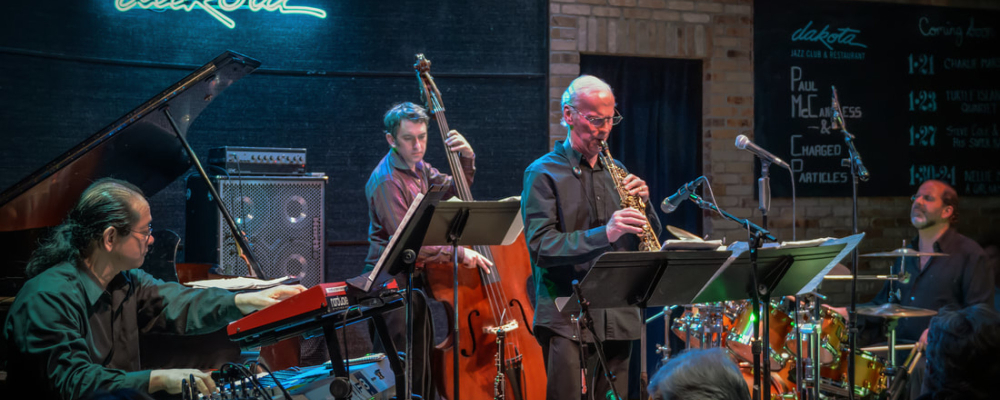 Paul McCandless of famed US band Oregon guests in this quartet of US virtuosos on their first UK tour featuring exciting and creative music that crosses stylistic boundaries and creates engaging new sounds.The repertoire blends jazz with elements of Latin music, funk, classical music, and other genres. Each piece they play brims with the fun the players have together and with the admiration they have for each other. Charged Particles are a treat to hear!
Paul McCandless is a Grammy Award winner and bandleader in his own right and is making an appearance as guest with Charged Particles. Paul has a life inside the American Classical world too. Charged Particles are Murray Low a keyboard wizard with dazzling Latin-jazz technique and imaginative improvisational skills. Aaron Germain is an inventive and sophisticated acoustic and electric bassist. Along with fiery drummer Jon Krosnick, these players are making some of the most electrifying music today. The band brings a similar approach to playing arrangements of tunes by other artists and traditional jazz standards by the composers of America's most popular songs from decades ago, each played with a new twist.
All the music has a distinctly acoustic sensibility, despite the members playing both acoustic and electric acoustic instruments. The group's small size allows for sensitivity and spontaneity among the players, making each performance an enchanting improvisational exploration. The band's energy level is always high, even when they are cooking at a volume no louder than a whisper, or floating through the melody of a romantic ballad.
Highlights for the band in recent years have been a performance on the main stage of Yoshi's San Francisco jazz club accompanying French Vietnamese guitarist Nguyen Le playing his compositions, an appearance accompanying vocalist Kevyn Lettau singing her compositions at Cafe Cordiale in Los Angeles, and performances in the Los Angeles area with keyboardist David Garfield.
The most exciting recent innovation for Charged Particles has been its collaboration with powerhouse reed player Paul McCandless playing his own compositions. The group have been appearing as headliners at these famed jazz clubs Birdland (in New York City), Blues Alley (in Washington, DC), Yoshi's (in San Francisco), and Nighttown (in Cleveland), as well as at the San Luis Obispo Jazz Festival, the Stanford Jazz Festival, the Erie Blues and Jazz Festival, and other venues around California and the east coast. One not to miss.
Paul Mccandleuss - reeds, Murray Low - keyboards, Aaron Germain - bass, Jon Krosnick - drums
Tickets: £12.50/£10 Members/Students £5