Almagro Ensemble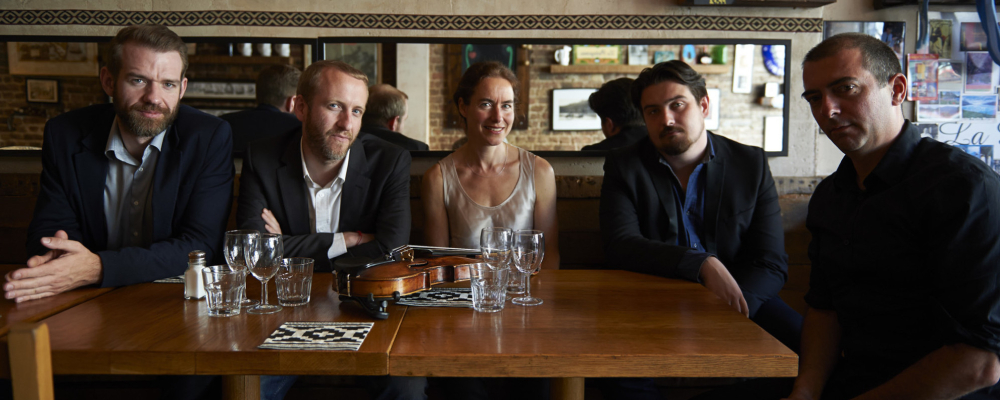 The Almagro Ensemble are a UK-based tango ensemble comprising some of the most versatile and in-demand musicians from the tango, jazz and classical worlds. They aim to present some of the new innovations in tango from Argentina to a European audience, commission new works from Argentine composers and compose new music inspired by their diverse influences.
They have performed throughout the UK, including recent dates at Cadogan Hall and in festivals in Birmingham and Cornwall. The members of the group have also performed with ensembles including Tango Volcano, Deco Ensemble, the London Tango Orchestra and Tango Siempre at the Leipzig Tango Festival, Bridgewater Hall Manchester, the Salisbury, Bath, Aldeburgh and Vamos International festivals among many others.
This evening they will debut a new composition for the ensemble by John Turville, commissioned by Birmingham Jazz, which will be choreographed and performed by tango dancers Richard Manuel and Emma Lucia Reyes. They will also perform repertoire from the past and present world of tango, from tango legends Osvaldo Pugliese, Horacio Salgan, Astor Piazzolla, and new work from Argentine composers including Diego Schissi and Ramiro Gallo.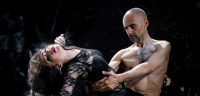 Richard Manuel
Richard Manuel is an internationally renowned artist, much in demand as a dancer, choreographer and teacher. He has appeared on many shows including : "La Milonga Interna", "Una noche en Buenos Aires", both directed by Biljana Lipic, "Romance d'Carnaval" (UK Tour) directed by Myriam Ojeda, "Ferverosa" (UK tour) directed by Wendy Hesketh and "Tangomotion" (UK tour) with the band Tango Siempre.
EMMA LUCIA REYES
Emma Lucia Reyes is an Argentine Tango dancer based in London.
Classically trained from an early age in Ballet (RAD syllabus) she quickly became curious about other dance styles exploring the worlds of Contemporary dance, Flamenco, Egyptian dance, Salsa and finally a 7 year love affair with the Argentine Tango. She now teaches and performs in London, around the U.K and Europe. In her partnership with Richard Manuel she has found an inspiring creative connection and they continue to produce new works together.
Line Up:
 Almagro Ensemble: Lucy Waterhouse – Violin, John Turville – Piano, Chris Allard – Guitar, Tom Mason – Bass & Bartosz Glowacki - Accordian
Dancers: Richard Manuel & Emma Lucia Reyes