Daniel Kemshell Trio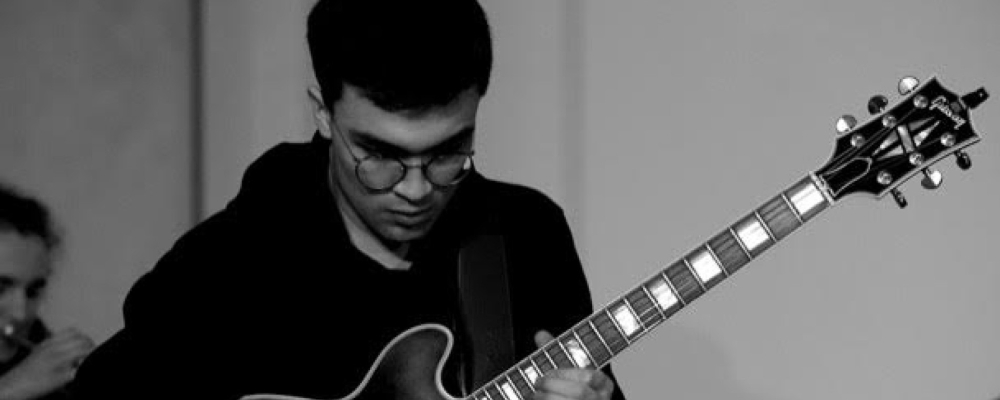 Daniel Kemshell (b. 1996) is a guitarist originally from Aberdeen, Scotland. A recent graduate from the Royal Birmingham Conservatoire's jazz programme, he has moved to London where he is engaging with the city's vibrant creative scene whilst also working as a performer and composer. He is an active musician - with recent performances at the EFG London Jazz Festival, Cambridge Jazz Festival and Cheltenham Jazz Festival to name a few - and he works in a wide range of styles and contexts. Recently as a composer, he has performed a set of written works featuring Mirna Bogdanović (DE) and is currently working on new material for his group.
His trio involves a mixture of original compositions along with imaginings of choice repertoire by composers such as Thelonious Monk, Paul Motian and Jim Hall. With a combined influence of electronic and rock music with the modern greats of jazz guitar (Gilad Hekselman, Bill Frisell, Ben Monder), he has a steered interest towards a trio that is playful and collaborative during their performance.
In London, Daniel is currently continuing his studies at the Trinity Laban Conservatoire of Music & Dance and has studied at the Jazz Institut in Berlin  - where he also engaged with the city's active music scene. He has also worked with the Cheltenham Festivals' music training and outreach programmes, and co-curates Jazz At Cherry Reds - which showcases exciting performances in the heart of Birmingham twice a month. In 2018, Daniel was awarded the jazz performance prize from the Royal Birmingham Conservatoire.
Daniel Kemshell– Guitar; Aram Bahmaie– Bass & Jim Bashford- Drums
Tickets:
Advance: £6.00/Students £3.00
On the Door: £8/£5