Maciek Pysz & Yuri Goloubev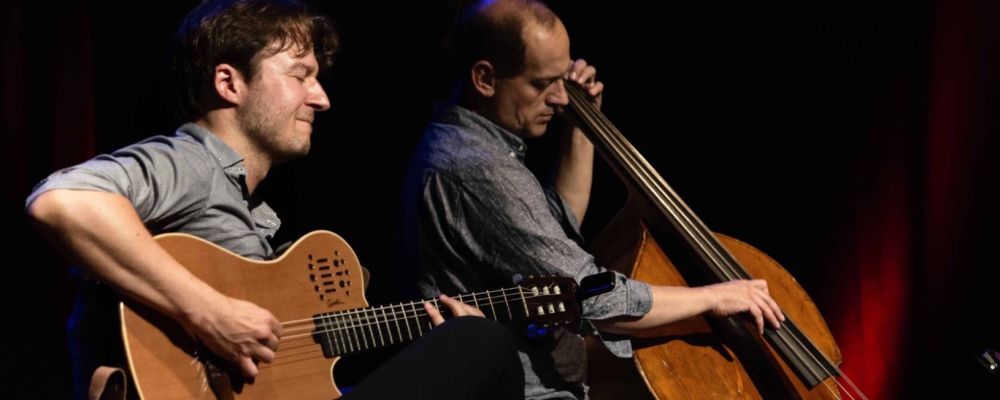 Well known for his work with Gwilym Simcock, Tim Garland & Jason Rebello, bassist Yuri Goloubev brings his perfect pitch, stunning execution & lyricism to a new duo with virtuoso guitarist Maciek Pysz whose unique sound & heartfelt compositions have been delighting audiences around the UK & Europe for years in the many bands he has led on tour. Pysz adds this collaboration to his highly successful recording & touring duos with Daniele di Bonaventura & Gianluca Corona.
It's been twenty years since Pat Metheny and Charlie Haden released their celebrated 'Beyond the Missouri Sky', even longer since Ralph Towner and Gary Peacock's partnership. High time then for this exciting new partnership which plans to record in 2019.
Pysz and Goloubev worked together on Pysz's 'Insight' and 'A Journey' albums. Here they explore a fusion of jazz, world and classical music and new arrangements of their own compositions. You can expect intimate chamber jazz of the highest virtuosity, robust yet refined.
The duo is very new and there are no studio recordings for you to hear yet. But you can get an idea of the duo's interaction here:
https://www.dropbox.com/s/ay3pmljq7x6efx7/Maciek%20Pysz%20%26%20Yuri%20Golouev.wav?dl=0 
Maciek Pysz– Guitar & Yuri Goloubev– Double Bass
Tickets:
Advance: £10.00/£7.50 Members/Students £3.00
On the Door: £12.50/£10/£5