ARQ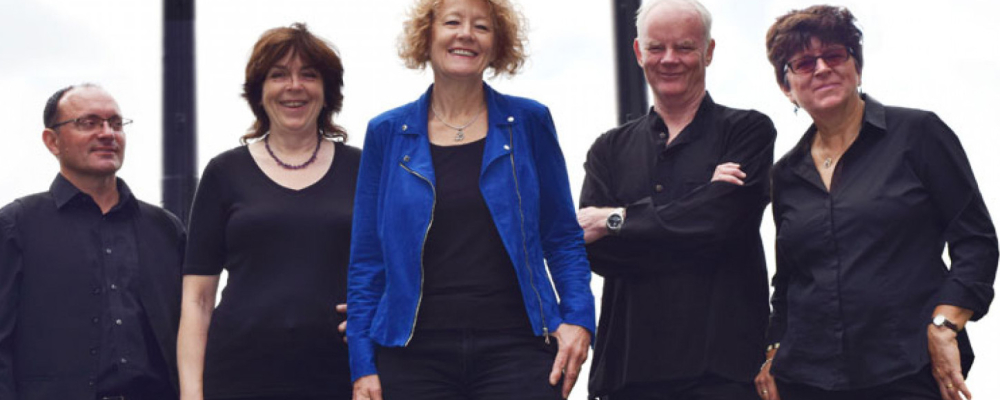 A welcome return for this fantastic quintet, who have won the "Best Jazz Ensemble of the Year: Parliamentary Award last year. Of cause, they have a new recording – Short Stories - to perform for the gig, and retain the best line up available.  Led by the very personable Alison Rayner (Alison Rayner Quintet) and features legends of the British Jazz/Rock scene.
Bassist & composer Alison Rayner's award-winning quintet combine richly nuanced compositions, rhythmic interplay and folk-infused melodies; this, along with their love of improvisation, creates a strong sense of narrative and cinematic quality. ARQ play 'songs without words' and are lauded for their vibrant, communicative performances.
ARQ are widely celebrated from six years of extensive UK and European touring and critical acclaim for their first two albums 'August' (2014) and 'A Magic Life' (2016), receiving national and international radio play and four and five-star reviews in jazz and national press. Winners of 'Ensemble of the Year' at the 2018 Parliamentary Jazz Awards and shortlisted for 'Best Small Group' at the 2018 British Jazz Awards, ARQ's third album Short Stories (released Oct 2019 on Blow the Fuse Records) is now receiving extensive radio play and press acclaim. The project is supported by ACE and PRS Foundation Women Make Music.
This year Blow the Fuse celebrate 30 years. Started in 1989 by musicians and composers Deirdre Cartwright and Alison Rayner who were members of the internationally acclaimed jazz group The Guest Stars, BTF have played a crucial role in raising awareness about women jazz musicians and importantly giving them support, a space and opportunity to perform in times which have sometimes been very challenging.
BTF have been very much part of the new resurgence of jazz musicians, which contain many talented young women. Beginning in 2012, Blow the Fuse Seasons Tomorrow the Moon 'one small step for women' have featured groups led by composers Laura Jurd, Yazz Ahmed, Laura Cole, Dee Byrne, Sophie Tetteh, Lauren Kinsella, Roz Harding, Nikki Iles, Shama Rahman, Daphna Sadeh, Flo Moore, Chelsea Carmichael, Camilla George and Nubya Garcia.
BTF have managed many UK jazz tours with new musical works, innovative collaborations and educational projects and they run the Blow the Fuse record label.
Line Up: Alison Rayner – bass, Deirdre Cartwright – guitar, Steve Lodder – piano, Diane McLoughlin – sax & Buster Birch - drums
"…infused with the kind of heady imagination that transforms their resonances into a series of vivacious musical adventures."BBC Music Magazine ★★★★★
Here one of their tracks here:
Tickets:
Advance: £12.50/£10.00 Members/Students £5.00
On the Door: £15.00/£12.00/£5.00