The Dave Jones Quartet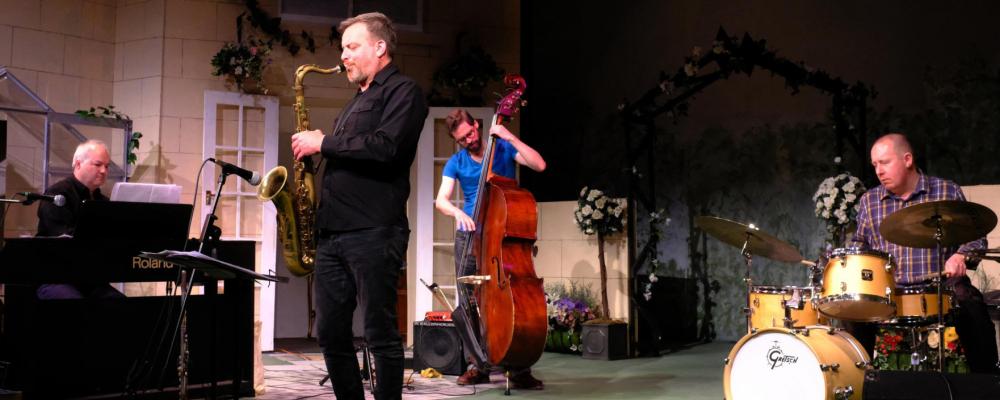 The Dave Jones Quartet were formed in early 2017, this latest incarnation of The Dave Jones Quartet has released the critically acclaimed album 'KeyNotes', and gigged extensively in Wales and England. The Quartet have very recently recorded some new material releasing a new CD including this new material, in Feb/March 2019. We've had great audience responses at gigs and plenty of radio play for the Quartet's releases over the past year or so on BBC Radio 3's Jazz Now, and Jazz FM.
With this in mind, the quartet also sometimes include a few 'standards' in our set, that fit stylistically alongside their our material – e.g. tunes by Wayne Shorter and Horace Silver. Jones has assembled a formidable quartet, with the theme writing is, as you might expect from a successful film and TV composer, memorable. Listeners are often wary of original compositions – and with Jones they needn't be – will find that there are enough echoes of things they already love to draw them in.
Line Up: Dave Jones – Piano, Ben Waghorn – Sax, Ashley John Long – Bass and Andy Hague - Drummer
Video here:  https://www.youtube.com/watch?v=j4QJqBvWJO4&authuser=0
"The individual players also walk the line between tradition and individuality with equal success" (Jazz author and saxophonist Simon Spillett)
Tickets:
Advance: £12.50/£10.00 Members/Students £5.00
On the Door: £15.00/£12.00/£5.00