Loz Speyer's Time Zone - Cuban Vibe Sound & Images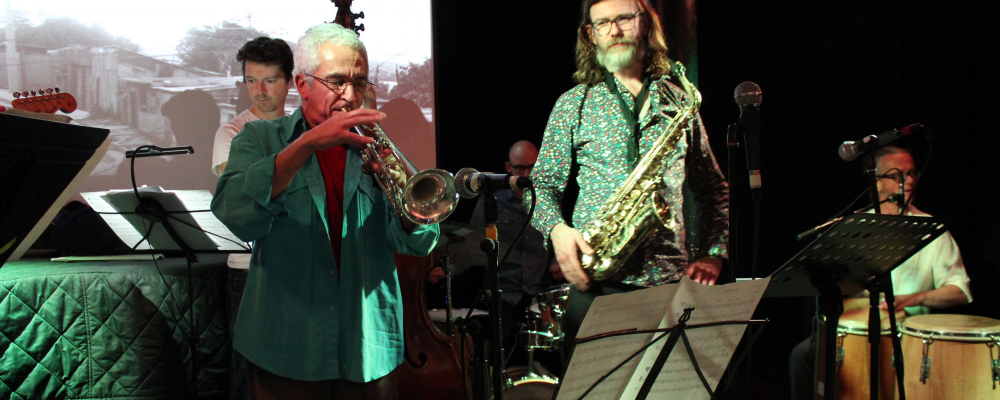 A unique combination for you at the 1000 Trades - with live cuban driven jazz in front of images of Cuba accompanying the music.
This unusual crossover music was born more than 15 years ago when trumpeter Loz Speyer was living between London and Santiago de Cuba, studying and performing there with local musicians and delving into the roots of Cuban music – which then began to reappear transformed in his own music for Time Zone. Meanwhile his new family life swung between these two far removed worlds - the collision of which shows through in the compositions, played with passion and commitment by this fine band.  Time Zone takes the audience on a journey of the heart.
​
​"Speyer's ear for the exultant horn harmonies of traditional Cuban dance music informs a probing crossover composer's intelligence, in which time signatures are shuffled and idioms overlaid… Nobody writes world music quite like Loz Speyer, and he's long deserved a bigger stage, and the resources to match." - John Fordham, the Guardian
​
​"There is an intriguingly saturnine quality in both the leader's compositions and the band's execution, a sense of hard-edged modernity that has a side-winding thrust reminiscent of Dave Holland's ensemble... An ensemble led by a trumpeter/composer who has absorbed the essence of Cuban music and distilled it quite cunningly into an improvisatory context with no compromise to either culture. Gritty, graceful sounds with a dark-light intensity."
- Kevin Legendre, Echoes Music Magazine
Line Up: Loz Speyer - trumpet, flugelhorn, Martin Hathaway - alto sax, bass clarinet, Phil Dawson – guitar, Dave Manington - double bass, Gaspar Sena – drums & Maurizio Ravalico - congas