Alex Merritt/Steve Fishwick Quintet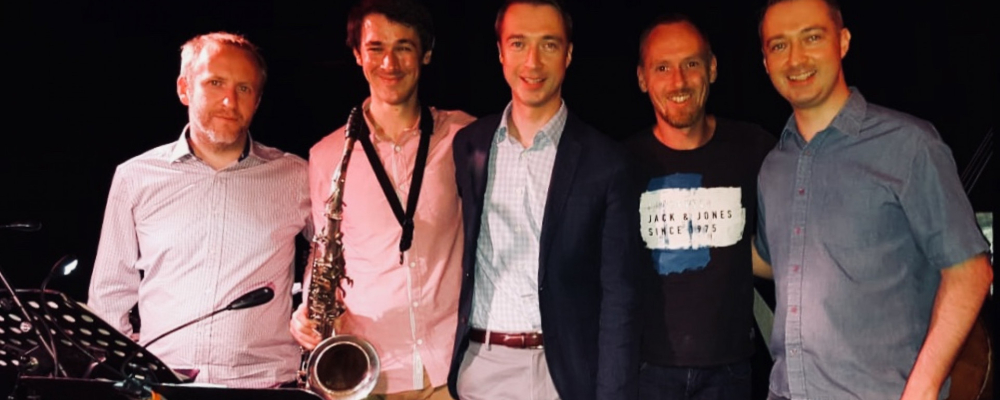 The Quintet have just finished recording their debut album of all original material written by Alex, leading UK trumpeter Steve Fishwick and pianist John Turville. Incorporating influence from the music of Joe Henderson/ Kenny Dorham, John Coltrane and Lennie Tristano/ Warne Marsh; the band has, over the last 5 years of playing together, developed its own brand of sophisticated contemporary jazz that draws on the strength of both leaders as accomplished players but also as very individual composers.
This is a very exciting project and there is a fantastic synergy amongst all members of the band which makes for very entertaining, stylish and nuanced modern jazz that will appeal equally to jazz afficianados and more mainstream audiences.
The Alex Merritt/ Steve Fishwick Quintet will have launched their debut album in early 2021 "Mind-Ear-Ladder" and will follow up with a UK and European tour; for which this is part. The album was released on the prestigious Fresh Sound New Talent label. This highly regarded band play nuanced, sophisticated contemporary jazz originals that have been honed over 5 years of playing together prior to recording this debut.
For more information see:
www.alexmerritt.co.uk 
www.stevefishwickjazz.com
"Merritt's rich but dry tone traces a line back to the Cool School jazzers such as Warne Marsh." (Robert Shore, Jazzwise)
Line Up: Alex Merritt – Saxophone, Steve Fishwick – Trumpet, John Turville – Piano, Mick Coady – Bass, Matt Fishwick - Drums