Phil Robson/Jed Levy Quartet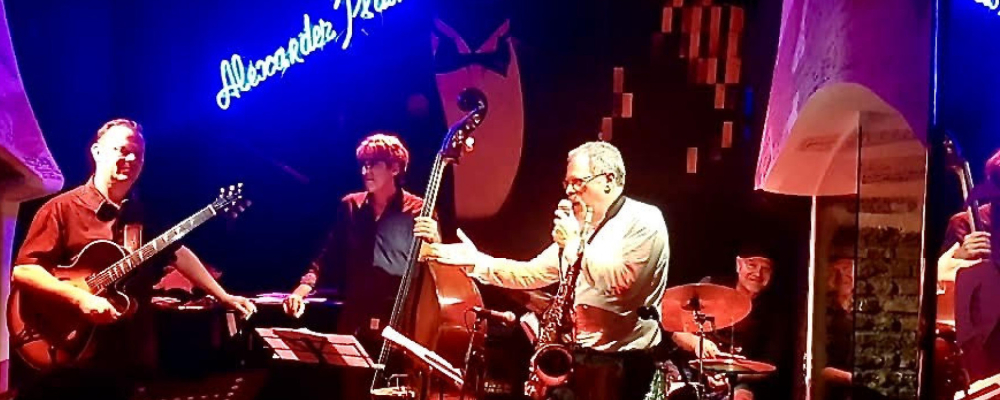 This gig is a co-promotion with Lichfield Jazz and will be performed in the Cathedral Hotel in Lichfield.
The Robson/Levy Quartet was formed in New York City in 2018 to perform the original compositions of the co-leaders in equal measure. Whilst Jed Levy is a celebrated mainstay of the NY scene, UK born Phil Robson lived in the city for 5 five years from 2015, having previously been a major force in London for many years and has now made his home in Co. Roscommon, Ireland. Having met and begun to play together in 2017, they quickly formed a great musical friendship. Both bring a wealth of experience and diversity to the bandstand, both as composers and musicians. Robson is best known in Europe for his work with the cult UK band 'Partisans' which he co-led with saxophonist Julian Siegel over 22 years, as well as with his partner, the great singer/songwriter Christine Tobin. He has led many projects featuring such legendary artists as Dave Liebman, Mark Turner, Billy Hart, James Genus etc and he has played with a huge array of internationally acclaimed musicians ranging from Kenny Wheeler, Donny McCaslin, Django Bates to Barbra Streisand.
Levy's compositions have been performed and recorded by such luminaries as Mike Clark, Charlie Hunter, The Headhunters, Eddie Henderson etc. and Jed has also performed and/or recorded with a wide variety of jazz music's finest, including: Jaki Byard, Don Patterson, Jack McDuff, Lonnie Smith, Attila Zollar, The Village Vanguard Orchestra, Junior Mance, Cedar Walton, Tom Harrell, Curtis Fuller and many others. Having initially played in major NYC venues such as Smalls, the 55 Bar etc, with sold out performances at Birdland, they went on to tour the UK and play gigs in Barcelona, Berlin, Rome and completed a tour of Northern California in 2019 which included a highly successful show in the legendary Oakland club, Yoshi's at which Peter Slavov and Billy Drummond completed the line-up. 
The band they bring to the UK however, is more European and will feature the incredible the fantastic UK Bass player Dave Whitford. Roberto is a highly renowned musician who has worked with a 'who's who' of US and European musicians including Chet Baker, Freddy Hubbard, Bob Berg, Steve Lacy, Johnny Griffin, George Coleman, James Moody, Steve Grossman, Lee Konitz, Michael Brecker to name just a few. Dave will be well known to UK music fans for his work with The Josephine Davies, Bobby Wellins,  Marc Copland, John Taylor, Christine Tobin, Dave Liebman, Mike Gibbs, Evan Parker, Kirk Lightsey, Gilad Atzmon and many more. 
"The music written by Phil & Jed is innovative and contemporary, whilst drawing on the vast tradition of jazz, across a whole spectrum of styles. The emphasis is on strong melodies and grooves and the tunes are vehicles for improvisation, allowing each musician to bring their voice and to make them their own, a genuine musical melting pot!"
Line Up: Phil Robson – guitar, Jed Levy - tenor Sax, Dave Whitford – double bass & Roberto Gatto – Drums