Chris Biscoe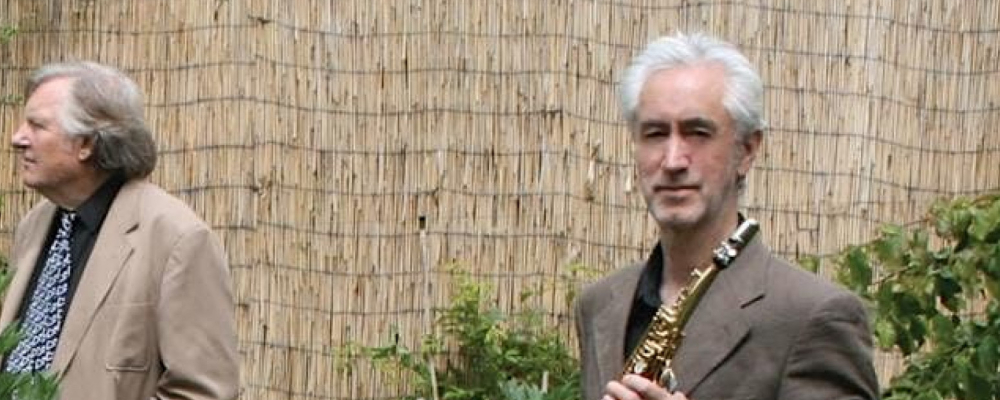 Mike Westbrook is one of the most important composers in jazz with a huge body of work from small band jazz through big bands, cabaret, fusion, chamber works, opera, settings of poetry, creative re-workings of Rossini and The Beatles' Abbey Road, while always retaining his unique character. Chris Biscoe has worked with Mike and Kate Westbrook since 1979, from Mama Chicago and The Cortege through On Duke's Birthday, London Bridge is Broken Down, Bar Utopia, Art Wolf and many other shows. Their closest and most enduring collaboration is The Trio, which has toured extensively and produced four records. The idea behind Music Is was a simple one: take some of these great pieces out of their context and play them with a small jazz group as you might an Ellington, Monk or Gershwin song. Arrangements are simple, or even created in the studio in partnership with input from the members of the quintet.
Kate Williams solos with a rare economy, combined with great rhythmic drive and invention. She plays in Chris Biscoe's 'Profiles of Mingus' and has released eight records of her compositions. Finding Home was the Parliamentary Jazz Awards winner for Best Album in 2020.
Mike Outram is a prodigious guitarist, whether playing jazz, blues or fusion music, and a long-term member of the Tony Woods Project. Credits include Tim Garland, Robert Fripp, Jacqui Dankworth, Julian Siegel and Laura Rossi.
Dave Whitford's unique sound is characterised by great depth and drive. He was a member of the fabulous Bobby Wellins Quartet with Liam Noble and Dave Wickins, and recorded Brubeck with the Liam Noble Trio. Credits include The Christine Tobin Band, Josephine Davies Satori, Hans Koller Ensemble, and Bill Frisell, Steve Lacy and John Taylor.
Jon Scott is a wonderfully flexible and varied drummer, first heard with Kairos 4Tet, now with GoGo Penguin and Mulatu Astatke. Other credits include the Pete Hurt Jazz Orchestra, Jasper Holby, Alice Zawadski, Alexander Hawkins and Dwight Trible.
Line Up: Chris Biscoe – soprano, alto and baritone sax, alto clarinet, Mike Outram – guitar, Kate Williams – piano, Dave Whitford – bass & Jon Scott – drums