Henrik Jensen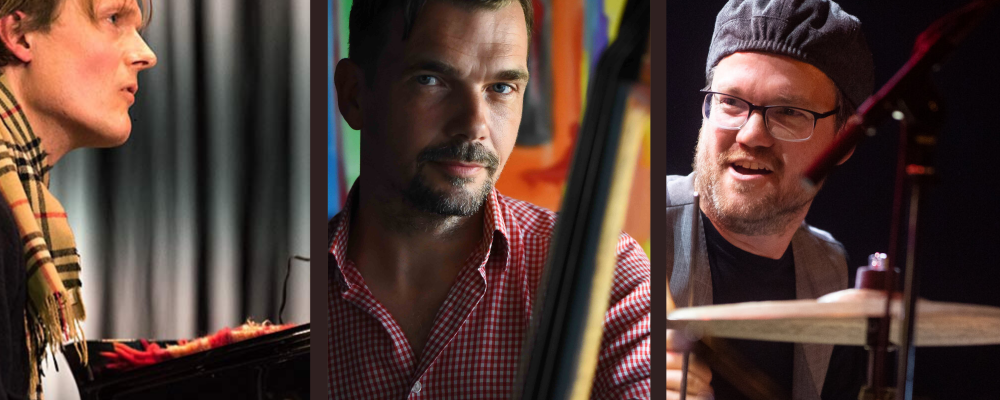 A new constellation of three remarkable musicians who are exploring the compositions by bassist Henrik Jensen. With a strong focus on interplay the trio blurs the lines between the composed and improvised material. An open sound that allows for a lyrical approach but also appreciates the high energy of rhythmic complexity in both swing and groove. 
 Henrik Jensen
As a composer, powerful double bassist, and a busy sideman for leaders such as Iain Ballamy, Michael Blake, Joy Ellis, Bruno Heinen and John Law, Jensen has also released 3 albums with his quartet 'Followed by Thirteen'.  This year he features on upcoming releases by John Law, 'Ribbons'(Sara Colman & Rebecca Nash) and the Steve Banks Quintet.
Esben Tjalve
Pianist and composer Esben Tjalve is just one of a number of highly talented Danish jazz musicians making their name on the London jazz scene. Tjalve's own group features some of the best musicians playing on the London and European jazz scene; Phronises' Jasper Hoiby on bass, guitarist Hannes Riepler, Italien trumpeter Fulvio Sigurta and Marc Michel on drums
Dave Smith
Drummer Dave Smith is best known for his work with Robert Plant and the Sensational Space Shifters, Fofoulah, and Afro-Blues group Juju. He has recorded drums for Rachid Taha, Bassekou Kouyate and Robert Plant and has performed with Patty Griffin, Donny McCaslin, Chrisse Hynde and Eddie Henderson.
'Somewhere between the kind of mysteriously loose-swinging Miles quintet sound of the mid' 60s the film-noir harmonies and majestic bass-playing of Charlie Haden, and the folksong like themes and patiently subtle impro of so much north European jazz of recent decades, comes the music of Henrik Jensen.'  (John Fordham)
Line Up: Henrik Jensen – bass, Esben Tjalve – piano & Dave Smith – drums