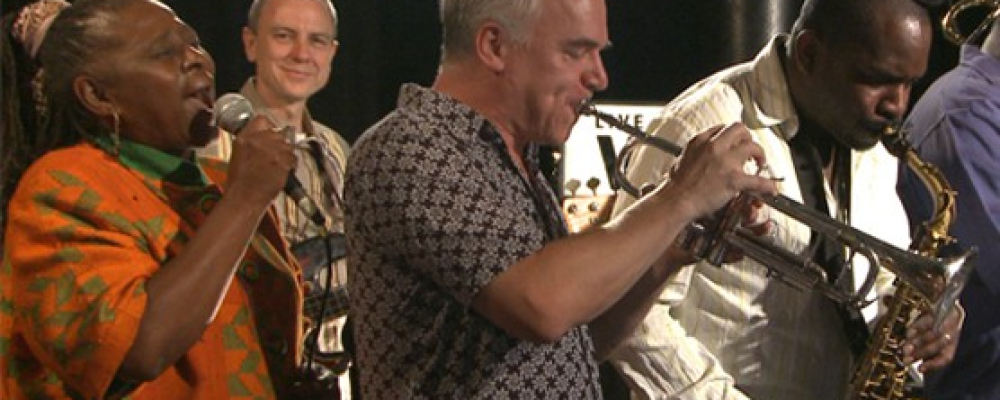 The Autumn programme is all set to go at Birmingham Jazz as you can see from the gig list on the website. And we've got some great bands and jazz names coming to play for us and there's a real international flavour for this season.
 
Most of the gigs are at our popular regular haunt of The Red Lion UAB but we have a season of three gigs at the Bartons Arms and a very special gig at The Drum.
 
Tony Kofi is back with The Organisation on September 19th – its always great to see and hear Tony and he shows his versatility with yet another setting for his strong and emotional playing.
 
A first for Birmingham Jazz is Andrea Vicari on September 26th. A well-respected piano player Andrea brings her JaxzzExTempore project with an international line up – Elvis Stanic (Croatia) on guitar and accordion, Rico de Jeer (Holland/Indonesia) bass and Hristo Yotsov (Bulgaria) drums. Expect a real international mix of styles from Andrea – who we discover was brought up here in Brum!
 
Another first time band with us is the Miguel Martins Quartet on October 17th. Miguel is a great guitarist from Portugal rapidly making a name for himself based in London. The band incudes the familiar name of Ben Bastin on bass who has played in some great gigs for us including Sarah Gillespie and Gilad Atzmon.
 
And on October 24th we will hear for the first time for a long time the joyous sounds of South African jazz at Birmingham Jazz when the Township Comets come to blow the roof off The Drum. Again some great jazz names including many who played with the late Dudu Pukwana's Zila. South African ex-pats and co-leaders are Chris Batchelor (Loose Tubes) on trumpet and Adam Glasser on keys with a great line up -  Jason Yarde Sax, Harry Brown trombone, Dudley Phillips bass and Frank Tontoh drums. This gig is a fringe event to the Afrovibes Festival celebrating 20 years since the end of Apartheid.
 
Our next major gig carries on the international theme and even includes that in it's name. The Sirkis/Bialis International Quartet brings together brilliant drummer Asaf Sirkis (Israeli born but longtime UK resident) with impressive vocalist Polish Sylwia Bialis, bass and harmonica player Patrick Bettison (a real international traveller having been brought up in Oz, lived in Scotland and the US and now London based) with Frank Harrison on piano – UK born but Berklee trained. The gig on November 14th promises international sparks!
 
Last time we had Preston-Glasgow-Lowe at the Red Lion it was a great night and they return on November 28th with their fiery and unusually voiced brand of jazz trio. Three virtuosos on guitar, bass and drums with complex interplay and great dynamism – the term musical fireworks seems very appropriate for this exceptional trio.
 
Woven between these gigs is a series of club nights with the best of Birmingham's impressive talent.  David Austin Grey's new band Hansu-Tori kicks off the new season on September the 5th with the Gareth Fowler Quintet following on September 12th. October 10th sees the return of the ever popular From Scratch with Ralf Decambre, Mark Hamilton, Ray Brown and Keith York and then we've got the Sean Gibbs Quintet with fast becoming stars Dan Bayliss, Dave Ferris, James Banner and Jonathan Silk.
 
On top of all of this we've got a new departure with a three gig series of Big Bands at the Bartons. This will make the most of the lovely "Palace of Varieties" room upstairs at the Bartons and features three interesting Big Bands. First, Arne Somogyi's Mingus Big Band on October 3rd (led on this occasion by Dan Searjeant). Then on November 21st we've got that great local institution the Walsall Jazz Orchestra with the final gig in the series and in this season coming on December 13th (NOTE a Saturday for a change!) with the Jonathan Silk Big Band featuring many young musicians from the Birmingham jazz scene.
 
Another cracking season with plenty of interesting and exciting jazz to come to the Red Lion, The Bartons Arms and The Drum.
 
For more information and bookings see www.birminghamjazz.co.uk
 
Facebook www.facebook.com/birminghamjazz
Twitter @brumjazz
Or call Phil Rose on 07887 526435
Picture: Richard Kaby